Exclusive: Shake-up to contribute £30m in annual cost savings, but Balfour Beatty's construction boss insists move is about long-term growth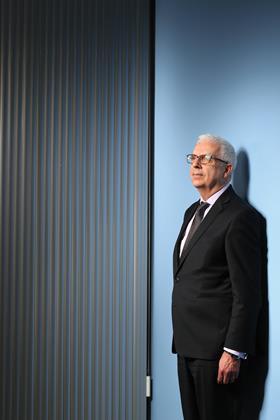 Balfour's Beatty's new slimmed down structure is aimed at positioning the company for growth over the long term and is not merely a short-term fix aimed at cost savings, the firm's construction boss has said.
Revealing the details of the firm's UK restructure exclusively to Building this week, Balfour Beatty Construction Services UK chief executive Mike Peasland said the shake-up had emerged from discussions in September 2011 as the firm reviewed its business in response to the ongoing economic downturn.
Balfour Beatty's £3.4bn construction arm was the only part of the business not to see a rise in profit last year, with the firm pointing to lower public spending and a highly competitive market eroding margins.
In March Balfour Beatty Group announced a new efficiency drive to realise £50m in annual cost savings by 2015 and Peasland said the restructure of the 12,000-strong UK business would deliver £30m of that target.
But he insisted the move was not simply a cost-cutting drive, but was about positioning the company for future growth. "We see ourselves structuring our business to suit the market that's going to be here not for the short term but for the medium and long term," he said.
For more on the restructure click here
"This is not a market where you can think, 'Well let's just keep it going for a couple of years guys and it's all going to come good'. It's not going to come good any time soon. I keep saying welcome to the new normal."
He said the new structure was aimed at slimming down a business which had become too clunky and complex over time. "We've grown in the good times and we've created all these businesses but we've created inefficiencies. We have 14 different intranets - after this there'll be just one."
"If we'd stayed the same we would have eventually started to diminish."
The new structure will see six separate operating companies reduced to just one - Balfour Beatty Construction Services UK - with back office functions centralised as much as possible in the firm's shared service centre in Newcastle.
"This whole model is about what needs to be close to the customers and what doesn't and how far away can it be? So, can it be in a regional hub? If we don't need it there, can it be in the London HQ, or can it go to our shared service centre in Newcastle?" he said.
He said the regional hubs will bring all parts of the business together under one roof, with open plan offices and the
single business model enabling different parts of the business to integrate and share expertise.
Peasland said the consultation with staff was continuing, with the majority of the new business positions to be finalised by the end of November, and the redundancy programme to be complete by mid-2013. He conceded that the consultation process had taken longer than expected, but said the new business model would be in place by January 2013 as planned.
"It's been quite torturous, but it's something you need to do and I think it's been done quite well. This a whole new way of doing things, with a different culture and behaviours," he said. "And that's part of why it's taking so long."

How it all fits together…
Balfour Beatty Construction UK will be one operating company, rather than six, shaped around four regional hubs and three business streams
The "master brand" will be Balfour Beatty - within Balfour Beatty Construction Services UK there will be six other high value or specialist brands (see story here)
The three business streams - major projects, engineering services and regional - are ways of organising the business internally, rather than separate businesses or outward facing brands. Major projects will make up about £1.3bn in annual turnover, regional business about £1.4bn, and engineering around £300m - formerly a £3bn turnover company
Major projects will be focused on what the company has identified as "industry verticals" - key growth areas - comprising transport (including aviation, rail, and highways), power (including nuclear, energy from waste, and biomass), and construction (including commercial buildings, larger education, health and defence projects, and large retail scheme)
The regional business stream will cover projects across all sectors up to about £15m in value - the major projects stream will handle higher value or more complex projects. Regional hubs will incorporate all existing businesses as well as housing some of the back office functions for each region. The hubs will serve a network of smaller offices, dubbed delivery units, which will be flexible and focused on project delivery and dealing with customers. Each delivery unit will comprise a business unit of up to £90m annual turnover
Engineering services will operate out of the regional hubs. OPL, the new incorporated fit-out business, will operate out of Ludgate House, in London. Major projects will be based in the London and Manchester hubs
Back office functions, like HR, IT, finance, health and safety, will be based in the regional hubs or moved to the shared services centre in Newcastle
For more on the restructure click here