Scheme hit firm for £200m
Balfour Beatty has sold its stake in the loss-making Aberdeen bypass which chief executive Leo Quinn said had cost the team building it £500m more than it should have.
The firm carried out the PFI job, known as the Aberdeen Western Peripheral Route, in a joint venture with Carillion and Galliford Try.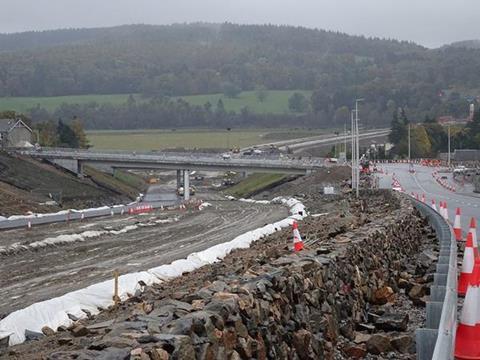 The job turned out to be a disaster, with Carillion bosses blaming the scheme as one of the reasons for its implosion in 2018 while Galliford Try was forced to put out a series of profit warnings, leading to the eventual break-up of the firm with its housebuilding business being picked up by Bovis Homes at the start of last year. The road was eventually completed towards the end of 2019, more than a year late.
Quinn said Balfour lost £200m on the scheme with the £533m cost, signed as a fixed-price lump sum deal, ending up doubling in price.
As well as Carillion's collapse, the scheme was hit by a series of problems including issues with utility diversions and flooded sites.
Balfour struck a £32m settlement with client Transport Scotland in February last year but retained a stake in the PFI which it has now sold to Luxembourg-based investment firm BBGI Global Infrastructure.
The firm did not say how much it received for the sale nor the amount it will receive from BBGI for its stakes in Woodland View Hospital in Irvine, Ayrshire, and North West Fire & Rescue, which saw Balfour build 16 new fire stations across Cumbria, Lancashire and Merseyside under a PPP contract it won in 2010.
Balfour did not sell any PFI stakes last year because of the pandemic but Quinn said earlier this year that it was looking at restarting the disposals programme which has seen it sell stakes in the M25, street lighting and other hospitals.