Britain's largest contractor using 250 people and BIM for 32 flats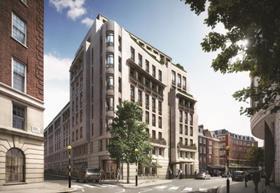 Balfour Beatty has been chosen by real estate fund Brockton Capital to build luxury residential scheme 60 Curzon Street.
Britain's biggest contractor will deliver 32 apartments around a south-facing courtyard garden in the heart of Mayfair. The development will also see Balfour build a range of 24 hour amenities.
Around 250 people will be working on the job at the peak of construction.
The £8bn turnover firm will use BIM to manage information on site and deliver the scheme with minimal disruption to the local community.
Balfour's chief executive officer for UK construction cervices, Dean Banks, said: "Our selection to this project builds on our vast wealth of experience in delivering significant developments across the UK, including the No.1 Palace Street residential scheme overlooking Buckingham Palace."
The firm has recently commenced work, and is scheduled to finish in 2020.