Scheme will produce energy for over a million homes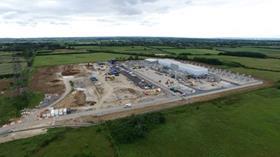 Balfour Beatty has won a contract to build a substation on the east coast of England for what will be the world's largest offshore wind farm.
Hornsea Project Two is being built 55 miles off the Yorkshire coast by Danish energy giant Ørsted and will supply electricity to 1.3 million homes when it becomes operational in 2022.
The onshore substation will transform the power produced by the 1.4 gigawatt wind farm before connecting it to the National Grid.
Balfour, which announced an improved set of interim results earlier this month, has already worked on the enabling work, and will now commence the main build for completion in 2020.
Balfour Beatty Kilpatrick, the engineering arm of the contractor, will carry out M&E work at the complex.
The country's biggest contractor has already carried out work on sister wind farm, Hornsea Project One, which has been built 75 miles off the Yorkshire coast.
Hornsea Project One is due to be completed in 2020, while project two is due to be completed in 2022.
In July the National Infrastructure Commission suggested that the UK should prioritise renewable energy, suggesting that only one more nuclear power plant ought to be built after Hinkley Point C. The commission recommended that up to 90% of UK energy should be renewable by 2050.