Trade union Unite claims firm has deducted electricians' bonus payments following strike action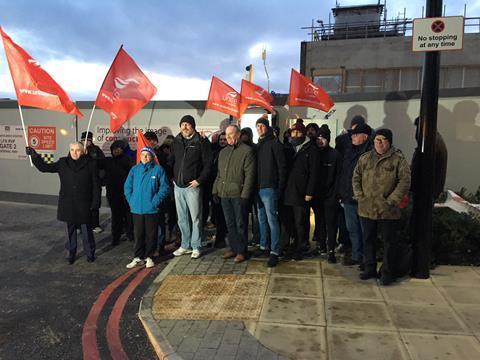 Balfour Beatty has hit back at Unite after the trade union said it is preparing legal action over a pay bust-up affecting workers on a Crossrail job in south-east London.
The dispute once again involves 76 electricians employed by the contractor on the Woolwich Crossrail station.
Last month, Unite announced four new 24-hour strikes to take place throughout February. Workers took their third day of strike action yesterday (pictured) following previous strikes on 10 and 31 January. Further action is planned for 14 and 21 February.
Unite said the strike is a result of Balfour's refusal to pay an improved second tier payment and an industry standard four week finishing bonus – payable when workers are made redundant.
It claims that in response to the strike action, Balfour has deducted the workers' bonus payments from their wages, which it says are part of their contracted earnings and as a result, will hold a series of demonstrations across at different Crossrail sites to coincide with the next strike on Wednesday.
Jerry Swain, national officer for construction at Unite, said: "Balfour Beatty's entirely unnecessary actions will backfire and are set to cause even further delays to the multi-billion Crossrail project.
"Unite will be using all legal avenues available it in order to ensure that the workers have their bonus payments repaid."
Building understands that deducting workers' bonus payments if strike action took place in more than one week in a month was part of the original site agreement.
A Balfour Beatty spokesperson said: "We are continuing to engage with Unite and Balfour Beatty Kilpatrick's workforce of electricians on Crossrail.
"Balfour Beatty engaged fully with Unite to negotiate and agree a productivity bonus for Balfour Beatty Kilpatrick's workforce of electricians on Crossrail. Since then, Unite demanded a significant increase in the bonus level and a completion bonus.
"We are committed to resolving this dispute and to the continued progress of the project."