Signalling Solutions' "management processes" to be reviewed by Network Rail after London Paddington closure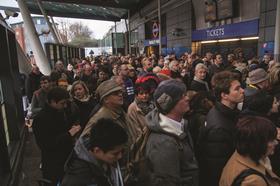 Network Rail will conduct a "thorough review" of a Balfour Beatty and Alstom joint venture's "work management processes" after an eight hour delay in its signalling work caused rail chaos over the Christmas period.
The joint venture, named Signalling Solutions, took nearly ten hours to complete a two hour safety check, which caused London Paddington station to close for most of 27 December.
The problems were one of two jobs that caused rail chaos over Christmas. Delays on a separate contract, being delivered by a joint venture of Amey and Sersa alongside Network Rail, caused London's King's Cross station to shut entirely on 27 December.
In the wake of the disruption the boss of Network Rail tasked staff with producing an urgent report into the causes.
That report, published today, found that some of Signalling Solution's testing work on new signalling equipment installed at Old Oak Common, needed to be "redone or rechecked", causing delays to spiral and necessitating cancellation of services from London Paddington.
The report said Signalling Solutions had originally forecast that its safety checks would be complete by 3.30am on 27 December and it would take two hours to complete paperwork so the railway could be handed back to Network Rail by 7.00am.
But Signalling Solutions discovered testing work needed to be redone and paperwork was "inconsistent" and this resulted in the job running over until 1:14pm – nearly ten hours late.
The report said: "A lack of warning that this work was delayed and frequent changes to the forecast completion time made it difficult to plan an effective train service."
It revealed this was not the first time the joint venture had experienced a "significant overrun" on one of its projects. Its commissioning of a new signalling system at Poole had also overrun in May 2014.
The report said that Network Rail and Signalling Solutions would undertake a "thorough review" of the contractor's "work management processes" in the light of the most recent problems.
A spokesperson for Signalling Solutions said:
Meanwhile, it found disruption at King's Cross was caused by "equipment failures" on the Switches and Crossings Northern Alliance contract, being delivered by a joint venture of Amey and Sersa alongside Network Rail.
The report said there were a "succession of equipment failures" on the job which "ultimately put the track renewal activities out of sync with their supporting engineering trains, stalling progress". This caused the project to fall 15 hours behind schedule.
It also said there was "insufficient contingency" in the project plan.
However, the report gave no indication that the Amey and Sersa joint venture will be subject to a similar review of its work management processes.
Mark Carne, chief executive of Network Rail, said he "unreservedly apologised" to passengers affected by the problems.
He said: "The explanation is complex at some levels, but also simple.
"In very complex projects sometimes simple things go wrong and these can snowball in short periods of time to become major issues. Our contingency plans should address these issues and protect passengers from our problems as far as possible. And our industry service recovery plans should minimise the impact of any disruption once it has occurred.
"On these occasions we simply did not do these things well enough."
Signalling Solutions and Amey have been contracted for comment. Sersa declined to comment.