Contractor loses High Court judgment on payments from developer of scheme near London's O2 Arena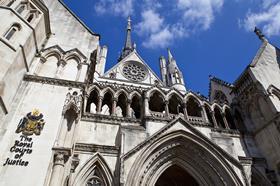 Balfour Beatty has lost a High Court dispute over a sum of £23m it wanted in additional payments from the client on a delayed £121m hotel project next to the O2 Arena in east London.
The contractor argued it was entitled to four additional interim payments beyond 23 instalments it had agreed with the client Grove Developments, on the grounds that its works ran beyond the original practical completion date of 22 July last summer.
Balfour claimed it was "commercial common sense" for Grove to keep up interim payments for as long as the works were ongoing. But in a judgment handed down last week, Mr Justice Stuart-Smith found Balfour "had no contractual right to make or be paid" the additional interim payments.
[Balfour] could have negotiated terms that would have given it a right to further interim payments … but it did not do so

Mr Justice Stuart-Smith
The judge added: "[Balfour] could have negotiated for terms that would have given it a right to further interim payments in such circumstances, but it did not do so (it being [Balfour]'s case that there was no discussion about what would happen if the works were not complete in July 2015). Had [Balfour] raised the issue it would no doubt have wished to negotiate protective terms; and its failure to do so is now seen as regrettable."
The 453-room InterContinental brand hotel finally opened last month. Balfour Beatty's regional subsidiary Mansell was awarded the contract in July 2013, after seeing off competition from McAleer & Rushe for the job.
The hotel complex, designed by RTKL and situated next door to the O2, also includes leisure and conference facilities and 100 serviced apartments. Online weekday room rates range from £195 for a standard room to £570 for a top-end suite.
A Balfour Beatty spokesman said the firm does not comment on ongoing legal matters. InterContinental was unavailable for comment.