Bam Construct has seen its revenues and profit hold steady amid difficult market conditions in the UK.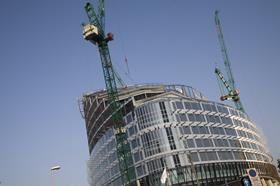 Reporting its results for the year to 31 December 2012, Bam Construct said its revenue fell 3%, from £945.9m to £917.2m, while profits rose from £11.5m in 2011 to £13.9m. This firm's pre-tax profit margin was 1.5%
Bam Nuttall, the engineering business, reported revenue of £730m, down from £809m in 2011, with pre-tax profit up 18% to £18.1m - giving the firm a pre-tax margin of 2.5%.
Bam's PPP business reported revenue of £55.8m, roughly the same as the previous year (£55.7m), with profit down from £3.1m to £2.7m.
Martin Rogers, member of the executive board of Royal Bam Group, the Dutch parent company, said: "Bam's UK companies have continued to perform well in the challenging economic and business environment that continues to persist.
"The profitability of the UK companies improved in 2012 primarily as a result of careful market positioning, project selectivity and improved risk management and project execution. Although their turnover in 2012 was lower than the previous year, combined revenue of £1.7 billion is evidence that the Bam brand is a significant force in the UK construction sector.
"The companies deliver major social and economic infrastructure projects that support growth and development of the UK economy. They work together collaboratively and have the financial stability and technical capability to offer national and regional customers an integrated range of construction and property services from concept and project initiation through to asset management."
Graham Cash, chief executive of Bam Construct, said: "Bam Construct UK won an array of new projects in 2012 that demonstrates our range and versatility.
"We formed some significant new client relationships with customers who want high value construction and property services.
"We continue to innovate and to offer additional value to customers, for example, in the way we are developing building information modelling to help our customers manage their completed buildings more efficiently."