Contract is part of a £600m programme to upgrade the campus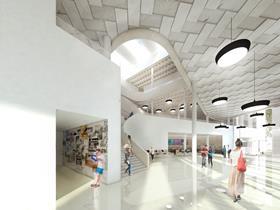 Bam has been appointed to build a student centre as part of Cardiff University's £600m campus upgrade programme.
The contractor is set to build the Centre for Student Life, which was designed by architect Feilden Clegg Bradley Studios
The centre, which has been developed in partnership with the university's student union, will provide a new home for student support services and offer additional social study spaces, consultation rooms and a 550-seat auditorium.
The new building will be home to a range of services including health and wellbeing, support with study, preparing for the future, managing money and advice on living in Cardiff.
Bam has already carried out enabling works at the site, with the main package of works set to start later this year. Work is expected to wrap in 2020.
Earlier this month it was announced that a £123m contract to build the next phase of the university's £300m Innovation Campus had been awarded to Bouygues. The firm will redevelop a disused railway yard into a centrepiece for innovation.