Dutch contractor notes stability in the UK, although warns of continuing uncertainty over Brexit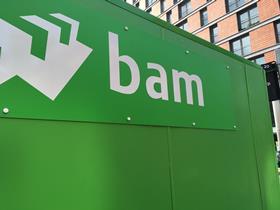 The UK arm of Dutch contracting giant Royal Bam saw its pre-tax profit rise by more than a third in the first six months of 2018, despite turnover at the operation nudging downwards.
Bam in the UK posted turnover of €910m (£808m), down 1.4%, while pre-tax profit rose 37% to €25.6m (£23m).
Royal Bam said construction and property revenues had decreased in the UK – and the group's home market of the Netherlands – due to "project phasing".
The group said non-residential construction and civil engineering markets in the UK remained stable, although uncertainty surrounding the outcome of Brexit negotiations remained unchanged.
The UK government is due to begin releasing the first in a series of documents today outlining what it believes will be the effect on dozens of industries across the country of a 'No Deal' Brexit.
Overall civil engineering revenues for the group grew by 9%, bolstered by growth at home and in the UK.
Group turnover for the first half rose 4% to €3.24bn (£2.9bn), with pre-tax profit increasing by 41% to €58m (£52m), 2017's figures having been restated due to accounting changes.
Bam said conditions in most of its markets were "favourable, although challenges like supply chain pressure remain".
The group said it was on track to post an adjusted profit before tax margin for the full year in 2018 "of around 2%".