Firm appointed through the P22 framework
Bam has been lined up to build a pathology facility in Leeds.
The contractor has been chosen to build the centre at the St James's University Hospital site.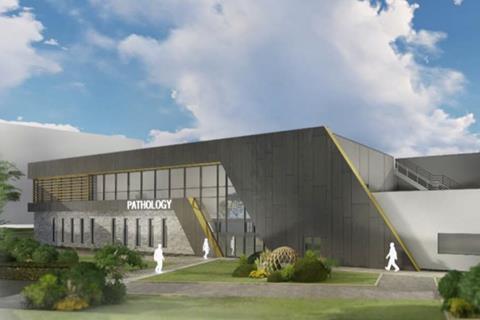 The facility, which recieved outline planning permission in August, will centralise specialist services and be one of the new hubs for the West Yorkshire and Harrogate pathology network.
The Leeds Teaching Hospitals NHS trust said: "The trust has provisionally appointed Bam as its preferred P22 contractor.
"Demolition works to clear the site for the new pathology facility are expected to commence at the end of November 2020."
Other firms who are on the P22 framework include Kier, Galliford Try and Interserve.
The P22 framework was due to be replaced by the Procure2020 framework at the end of September but the Department of Health and Social Care (DHSC) extended it because of the covid-19 outbreak.
In an update in March the department said this has now been delayed by 12 months.
It said: "Given the current impact of covid-19 and the resource impact this is having across the healthcare system, it has been decided that the ProCure22 framework is extended for up to 12 months."
The DHSC said procurement has been halted due to the coronavirus crisis impacting contractors' bid teams and resources, as well as the contracting authority and the NHS.
The department added: "To be clear P2020 will not be cancelled. This will still go ahead when pressure is released across the system."