Value of firm's office projects in city now close to £300m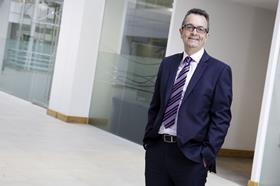 Bam is set to take the value of office schemes it is working on in Birmingham close to £300m with a further £30m deal in the city.
The firm began work earlier this year on Two Chamberlain Square on Argent's Paradise scheme and was asked to complete the remaining £20m worth of work at One Chamberlain Square which was being built by Carillion before it collapsed in January.
The firm has picked up a number of jobs following Carillion's collapse and Bam Construct's UK chief executive James Wimpenny (pictured) said: "[Carillion] probably took on too much risk. They were trying to be all things to everybody. If you get difficult projects in your business, it can bring the whole business down."
Wimpenny said the firm has taken on around 30 former Carillion staff in London, where it has taken on a £90m job due to have been carried out by Carillion on Argent's King's Cross development, as well as Birmingham and Manchester.
The latest £30m deal in Birmingham involves building a suite of offices for an unnamed developer, close to the cluster of schmes it is already working on. These include an £80m deal to build a 26-storey tower at the city's 103 Colmore Row, previously home to architect John Madin's NatWest tower, while it is already working on the £90m Three Snowhill scheme for Ballymore.