UK operations for Dutch engineering giant back in the black with £2.9m profit for first half of 2015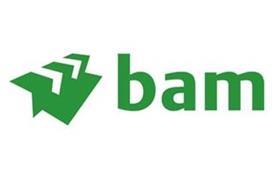 BAM UK's operations have returned to profit after last year's were hit by problem contracts, the firm has revealed.
The UK arm of the Dutch engineering giant posted a £2.9m profit for the first half of 2015 compared to a £2.7m loss for the same period last year.
The return to profit comes as revenue for the UK arm rose 18% to £776m with the strong pound also contributing to a 4% rise in revenue for the overall group. Revenue for the whole Netherlands-based Royal BAM Group rose €133m to €3.5bn with pre-tax profit rising to €19.6m from €4.6m in 2014.
Rob van Wingerden, chief executive of Royal BAM Group said: "BAM continued to move in the right direction in the first half of 2015. The Back in Shape programme, which has been underway now for ten months, is making fundamental improvements in our culture, structure and processes.
"The working capital reduction programme is strengthening our net cash position and the savings from non-project overheads are coming through.
"The order book is improving as new projects are being won under the enhanced procedures and existing projects get nearer to completion. This progress is made possible by the commitment and engagement of all our staff across the Group."