Housebuilder says Neil Cooper is leaving by mutual agreement, effective immediately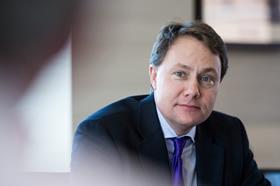 Barratt has announced the sudden departure of its chief financial officer Neil Cooper (pictured).
In a statement to investors Barratt said Cooper was leaving "by mutual agreement, effective immediately".
Chief executive David Thomas - who previously held the CFO role until stepping up in July 2015 - will assume temporary responsibility for the housebuilder's finance function.
He will be supported by Philip Schumacher and John Flynn, the firm's group financial controller and housebuilding financial controller.
The board said it is launching a search for a new CFO and will make a further announcement in due course.
Last week Barratt posted a trading update for the second half of 2016 in which it said it was "well on track for the full year".
Chairman John Allan said: "On behalf of the Board, I would like to thank Neil for his contribution during his time with us and we wish him well for the future."
Cooper said: "I wish David and the team all the best for the future and would like to thank the board for the opportunity to work with Barratt over the past year."