Huge £9bn scheme has been closed since last month
Hopes that London's biggest single construction site would be back up and running today have been dashed with the reopening put back until next month.
The £9bn site was closed on 24 March – the day after prime minister Boris Johnson put the country into lockdown.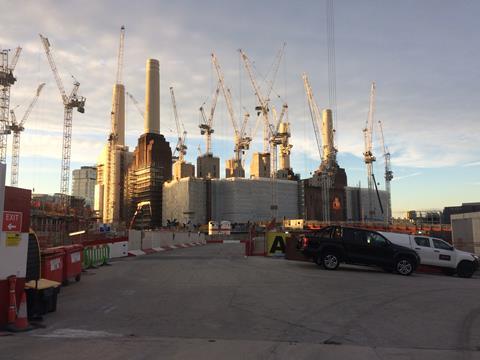 Four weeks ago, Battersea Power Station Development Company boss Simon Murphy promised a review of the position by 17 April, adding: "If deemed appropriate to reopen, main site works would recommence on 27 April."
But Building understands the site, which had more than 4,000 workers on it before the covid-19 crisis escalated, will remain shut for the next few weeks.
The developer is targeting a restart by the middle of May but will only do so once it has bottomed out its site operating procedures on issues such as 2m social distancing rules.
>> Coronavirus: The major construction firms shutting their sites
>> Webinar available on demand now: Covid-19's impact on construction - the legal view
It is unlikely the site will be open to all 4,000-plus workers immediately, given other sites around the country have begun reopening with limited amounts of operatives on them.
Mace is carrying out work on the second phase of the scheme, estimated to be worth £1.15bn, and which involves work on the main grade II* listed power station itself. It will include retail and food space as well as an events venue and park and had around 2,800 workers on it before the site was shut.
This phase, designed by lead architect Wilkinson Eyre, along with heritage advisor Purcell, is due to be finished by the end of this year.
Sir Robert McAlpine is carrying out work on phase three of the scheme which includes building more than 1,300 apartments designed by Foster + Partners and US practice Gehry Partners. This phase, estimated to be worth around £1bn, will also include a hotel, retail and restaurants and would normally have around 1,500 workers on it.
The first phase of the scheme, called Circus West and worth an original £400m, was completed by Carillion at the end of 2017 – shortly before it went bust.
It includes 865 flats designed by Manchester architect SimpsonHaugh and 2017 Stirling prize-winner dRMM.