Housebuilder will slash its carbon emissions and boost its use of green energy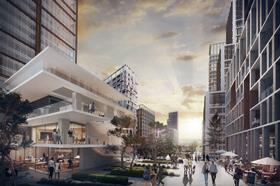 Housebuilder Berkeley has become the first major player in the housing industry to commit to becoming 'carbon positive'.
Over the next two years Berkeley has pledged to slash its carbon emissions by 10% and to offset more than all of its remaining emissions by using green energy.
It has also pledged to invest in renewable energy projects near its sites and to retrofit some of its existing housing stock.
Explaining the commitments, Berkeley group sustainability manager Helen Wickham told Building the two-year time frame is "quite quick" compared to other housebuilders, but insisted that everyone in the firm will stick to its pledges.
Wickham said: "It's the mindset [the company has]. It really does have senior management buy in, whatever the cost."
She added that the housebuilder will look at retrofitting existing stock because they're not built to current building regulations and therefore are not as energy efficient as new build homes, and will invest in projects such as installing solar panels on a school near one of its sites to help offset emissions.
The firm has also pledged to create a "net biodiversity gain" on all of its new sites, meaning the housebuilder will increase the number of species or habitat that were originally on-site once it finishes a job.
The pledge is linked to the government's work on biodiversity offsetting, which aims to compensate for biodiversity loss on a development through conservation activities that deliver an equivalent amount of biodiversity elsewhere.
Berkeley's other group sustainability manager Louise Clarke said the initiative was also a first for the industry.
She said: "It's not something that developers necessarily do. The only others are Network Rail on Thameslink.
"This is leading in the industry, as no other housebuilders have stepped up and said they'll commit to a net biodiversity gain [on their sites]."
The sustainability commitments are part of the housebuilder overall corporate commitments between 2016 and 2018, which include creating 1,500 apprenticeships or vocational training opportunities, as well as trialling 'smart home' technology in its new homes.