Housebuilder says construction of off-site factory is on track as it reports first half profit down 26%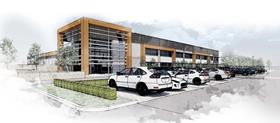 Berkeley Group plans to start building modular homes from its factory in north Kent once the facility is operational in 2020.
The housebuilder said the core building of the factory (pictured) is expected to be completed next year, with production to follow in 2020 once fit-out is complete.
The facility will employ more than 200 people and Berkeley said it planned to set up an apprenticeship scheme with a local college to help people get experience of working in modular manufacturing.
Berkeley outlined its modular plans as it reported a pre-tax profit £401.2m for the six months to the end of October, down 26% year-on-year, on turnover 1% down at £1.65bn. Operating profit fell 22% to £402.1m, and net cash came in at £860m, versus a year-end figure of £687m.
The group, whose shares were up more than 3% in early trading, said it had sold 2,027 homes in the period, down 7%, with an average selling price of £740,000, up 3%.
Berkeley repeated comments it made a few months ago around a "lack of urgency" in the London and south east.
It added: "Underlying demand is constrained by a combination of macro uncertainties and policy interventions. These include high transaction costs and mortgage restrictions, on both income multiples and mortgage offer periods."
But the firm said that depsite uncertainty around Brexit it was confident that London would remain "a vibrant, tolerant and diverse global city, attractive both domestically and internationally where the cumulative demand for new homes is only increasing".
Berkeley also called for "trust and confidence and fresh alignment between the public and private sector" in order to build more homes across all tenures".
It ramped up its pre-tax profit expectations for the current financial year to around £690m.
Build cost inflation remained steady at around 4% a year and the group said it remained "very aware of the risks presented by various Brexit scenarios".