Housebuilder says coronavirus has cost it £80m in just six weeks
Berkeley has warned that its full-year profit will be off by around £80m as the housebuilder said today it would begin shutting down most of its sites.
The scale of the havoc caused by the coronavirus outbreak has been laid bare in a trading update from the firm this morning which said the disruption expected in the remaining six weeks of its financial year, which ends on 30 April, would see profits come in at around £475m – compared to the £555m it had been forecasting just a few weeks ago.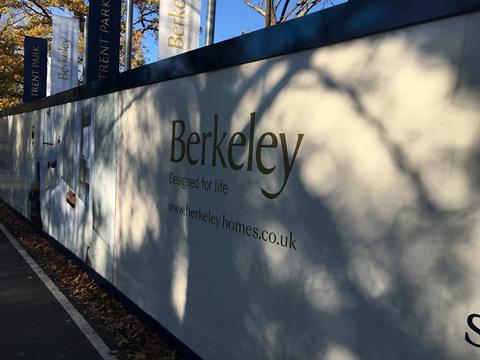 With more than 11,000 people working across its sites in December, the FTSE 100 group said suspending work on developments "will take time" and that it was focusing effort on completing "a number of private and affordable homes which are close to handover".
But the firm said it still plans to pay out a dividend of 99.32p per share, costing £125m on 31 March, and will return another £140.1m to shareholders by the end of September through a combination of share buy-backs and dividend.
Earlier this month, it shelved its extra £455m shareholder payout "until there is greater clarity" about the impact of coronavirus on UK economic activity.
It added that most of its office-based staff were now working from home and that it had closed its sales centres and show homes.
A number of housebuilders, including Barratt and Taylor Wimpey, began shutting their sites earlier this week after the government introduced new tighter social distancing measures on Monday evening to limit the spread of the coronavirus, keeping people away from work unless their job was essential.
Berkeley and Redrow both pledged to continue to keep sites open but this morning Redrow said it had decided to begin "with immediate effect" an orderly and safe closure of all sites and offices.