Housebuilder says covid impact saw pre-tax profit fall nearly 17%
Housebuilder Berkeley Group said it is still on course to deliver full year profits of £500m, despite its numbers taking a hit because of covid in the first half..
The firm, which works predominantly in London and the South-east, said pre-tax profit in the six months to October fell nearly 17% to £230.8m – below expectations of £240m. Revenue was down 3.8% to £896m with the number of homes sold during the period slipping to 1,104 from 1,389 a year earlier.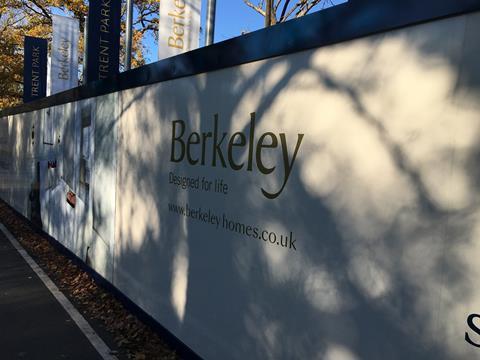 But the firm said it was still on track to deliver its annual pre-tax profit outlook of around £500m and paid out £171.4m to shareholders over the period including a £134.3m dividend. It will pay out another £140 by the end of March.
The firm, which said it did not furlough any of its staff during the period, had net cash of £954m at the end of October, down from the £1.1bn it record at its April year-end.
Berkeley said it had bought four sites during the period, three in London, including schemes at Southwark and Paddington, and a fourth in Oxfordshire with all four amounting to a pipeline of 2,800 homes.