Infrastructure fund to bid for £1bn portfolio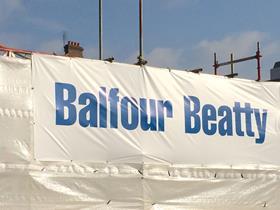 The John Laing Infrastructure Fund has confirmed that it is making a £1bn bid for Balfour Beatty's PFI portfolio.
The John Laing Infrastructure Fund (JLIF) issued an announcement to the stock exchange this morning following a report in yesterday's Sunday Times that it is plotting the deal, which could lead to the break up of FTSE 100 contracting giant.
Balfour's PFI, or public private partnerships (PPP), portfolio covers student accommodation roads and railways.
JLIF, which was spun off from infrastructure business John Laing in 2010 and is run as an independent company, said it is making a non-binding proposal, subject to due diligence, to the board of Balfour Beatty for its PPP portfolio.
The bid follows a string of profit warnings at Balfour, which has triggered the departure of its chairman and chief executive over recent months. In addition, it is possible the deal could revive Carillion's interest in making a fresh bid for Balfour following the breakdown of its attempted take-over of the larger company earlier this year.
In a statement this morning Balfour Beatty said it noted Jonhn Laing's announcement.
The statement read: "Balfour Beatty plc ("Balfour Beatty"), the international infrastructure group, notes the announcement by the John Laing Infrastructure Fund Ltd ("JLIF") that it intends to make a non-binding proposal for Balfour Beatty's PPP portfolio.

"The Board of Balfour Beatty will review the proposal once received from JLIF. A further announcement will be made in due course, as appropriate.

"As previously stated, the Board remains open to value creation opportunities across the group while it concentrates on the restoration of value to its shareholders."