Data shows just eight PFI deals have been signed in 2014 to date, the lowest total since 2008
The proportion of project finance deals signed in the UK which are PFI has fallen in every year of the coalition government, according to exclusive data analysis carried out for Building.
The data, provided by private finance analytics company Dealogic, shows that just eight PFI deals have been signed in the year to date, the lowest figure since 2008. In addition, just a quarter of all project finance deals done this year have used PFI, continuing a declining trend from representing more than 80% of the market when the coalition government began in 2010.
The data follows the government's decision to put the PFI method of financing projects on hold in 2011 amid concerns about its cost-effectiveness, inflexibility and "super-profits" generated by contractors. In 2012 it relaunched an altered version of PFI designed to address these concerns, branded PF2, but only a limited number of projects are using the new system.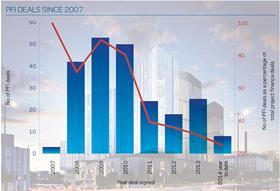 Richard Threlfall, head of construction at KPMG, said the figures underlined the sense PFI had been effectively scrapped for political reasons. He said: "There really is no PFI left. It feels like the government has been playing a game of charades with the industry for years on this.
"While the government review purported to have created a successor solution, it seems the government never had any intention of resurrecting a PFI pipeline. Yes there are a few schemes knocking around but they're just to maintain the fiction there's a programme," he said. "This is despite the fact the government is running around elsewhere trying to make other vehicles that do exactly what PFI did."
Dealogic's analysis was prepared for Building as part of the magazine's review of the performance of the coalition government.