Rise on Sir Robert McAlpine scheme down to increase in complexity of work on tower and hike in price of groundworks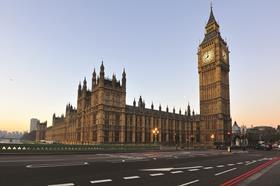 Costs on Sir Robert McAlpine's conservation of the 96-metre Elizabeth Tower at the Palace of Westminster have doubled to £61m.
The hike has been put down to an increase and complexity in the work needed on the iconic tower and clock, as well as further ground works to support the weight of the scaffolding being erected by the contractor, the House of Commons said.
Parliament has also increased the amount of money set aside from £5.8m to £17.2m to pay for any unexpected events or challenges that may arise as the scheme to proceeds.
In addition, funding for fire safety work, which was budgeted in a different scheme has been transferred to the conservation of the Elizabeth Tower, adding £4.5m to the cost of the project.
The cost increase has seen the authorities of both Houses of Parliament agree to the internal audit review of progress on the project, including analysis of the reasons for the increase in estimated costs.
The House of Commons and House of Lords Commissions have expressed their disappointment in the cost increases, and the unreliability of the original estimate.
In a statement, the Clerk of the House of Commons, the Clerk of the Parliaments and the Director General said: "We acknowledge that there have been estimating failures and we understand the concern of the Commissions.
"In advance of tendering contracts, the initial high level estimates were set at a lower level to avoid cost escalation from the market.
"Subsequent estimates, using better data and more extensive surveys, better reflect the true likelihood of the costs. We believe that we now have a more accurate estimate of the cost of the works and will report regularly to the committees on the progress of work."
The scaffolding job is expected to complete at the end of the month, which will then allow the process to refurbish the 96m tall tower to begin, starting with the renovation of the Ayrton Light, which shows when Parliament is sitting, and the cast iron roof.
McAlpine, which won a pre-construction service agreement and the scaffolding contract in November last year, has now been confirmed as the contractor on the scheme and began erecting scaffolding earlier this year.