Energy savings scheme report carried out by BRE chief expected to focus on consumers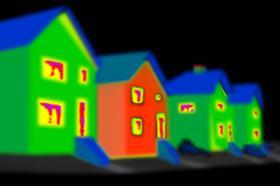 Peter Bonfield's government-commissioned review into energy efficiency is set to be released by the middle of next month, Building can reveal.
Speaking exclusively to Building, BRE chief executive Bonfield said his review - which he has completed - can't be published before the local elections at the start of May but should be released before the build-up to the EU referendum.
He said: "The work's done and we're ready to publish. It's not confirmed but we hope to publish sometime in mid-May."
Bonfield declined to reveal details about the recommendations in his review but said there would be a particular focus on consumers and on getting the private sector more involved in delivering energy efficiency measures.
He said: "What was necessary was especially that the private sector gripped the problems, and opportunities, that are derived from putting in energy efficiency measures.
"We needed a team effort between the private and public sectors […] to ensure customers are properly advised and protected."
He added that the stakeholders in the private sector have "responded well" to his review and that he has "taken heart from the work they've done". But he admitted that the "proof of the pudding is how they act in the coming years".
Last December, Bonfield said his review would focus on exploring ways to increase the roll-out of smart metering, renewable energy and all types of insulation.
He also revealed his review would look at existing domestic buildings rather than new build, exploring ways to increase energy efficiency deployment in social housing, and proposals to mass retrofit housing association homes.
An insulation industry leadership group - as recommended last November by former chief construction adviser Peter Hansford - was also set up as part of the review.
The Bonfield Review was co-commissioned by energy secretary Amber Rudd and communities secretary Greg Clark last July to come up with cost-effective energy efficiency schemes that could replace the scrapped Green Deal, with an emphasis on consumer-focused ideas.