Keith Brooks, who helped broker role on world's tallest tower in Jeddah, joins former Arcadis colleagues at start-up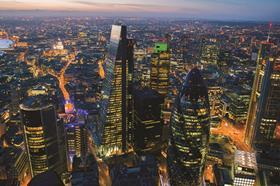 Fledgling consultant Cast has poached Arcadis' London boss Keith Brooks - the fourth director to make the switch to the start-up this year.
Brooks was Arcadis' chief executive for London and a key deal-maker at the firm, helping broker major jobs including the project manager role on the world's tallest tower, the kilometre-tall Kingdom Tower in Jeddah, Saudi Arabia, in joint venture with Mace.
Arcadis told Building it had recruited Mark Prior, a former Aecom and Arcadis director, to replace Brooks.
Brooks has joined Cast as chairman, with a specific focus on housing and residential-led mixed-use developments.
He joins the consultant's founding trio and fellow former Arcadis colleagues Mark Farmer, Joe Thornton and Neil Brearley.
Farmer was Arcadis' development boss, while Thornton led Arcadis' private-rented sector team and Brearley its high-end London residential team.
Brooks moved across last month and is based at the firm's Farringdon head office.
Since launching in January, Cast has picked up work with high-profile clients including private rented sector specialist Essential Living, King's Cross developer Argent and investor Brockton Capital, while Farmer has been personally commissioned by the government to review the construction labour market.
Brooks worked at EC Harris, the UK consultant acquired by Arcadis in 2011, for over 28 years, with the latter four spent on the UK board.
Building first revealed in January that Farmer had been commissioned by housing minister Brandon Lewis and skills minister Nick Boles to undertake a major review of the construction labour market.
The review - overseen by the Construction Leadership Council - aims to reform the sector and enable it to help power economic growth and solve the housing crisis.
A Cast spokesperson said: "We can confirm Keith has recently joined the business. Along with other members of Cast, he will continue to work closely with Arcadis supporting client needs where appropriate."
Prior was a managing director at Aecom from May 2013 to February last year and is also a director at property investment company Lawford Estates, according to his LinkedIn profile. He previously held leadership positions at EC Harris in the UK and the Middle East.
An Arcadis spokesperson said: "Mark Prior brings a wealth of project, programme and commercial management expertise, with a strong background in commercial development and a formidable track record of delivering outstanding results for clients in both the UK and Middle East."