Mark Reynolds calls for long-term visas for foreign workers instead as Boris Johnson launches drive to end reliance on immigration
Increasing the wages of construction workers will not solve the industry's labour shortage crisis, the chief executive of Mace has said.
Mark Reynolds said the construction sector already "pays pretty well compared to most" and denied that the industry is reliant on cheap foreign labour.
Speaking to the BBC yesterday, he added that boosting salaries for UK workers would not attract the 80,000 extra staff needed each year to fulfil the government's building ambitions.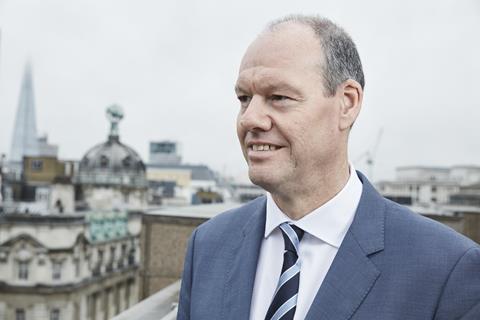 The comments come ahead of Boris Johnson's Conservative party conference speech later today, in which is expected to make increasing wages for UK workers a key policy direction.
The prime minister has said the country is "moving to a new approach" with firms paying more for UK workers rather than relying on low paid immigration.
But the government has also offered temporary visas for HGV drivers to combat shortages afflicting a wide range of sectors.
Only 127 drivers had applied to the scheme, Johnson has admitted, with the Road Haulage Association complaining the timeframe being offered, which is less than six months, "simply wasn't attractive enough" for European drivers to move to the UK and bear costs including short-term rent.
Steve Granite, chief executive of haulier Abbey Logistics Group, said: "You have to put yourselves in the shoes of those people and think, would I up sticks from another country to come and work in the UK for six months and then get told to go back home?
"It's not practical, it's not going to work."
Reynolds added that construction needed a "demand-led" system of long-term visas rather than short-term ones if it wanted to fill gaps in labour supply.
But Arcadis head of strategic research and insight Simon Rawlinson said it was "unrealistic" to think that current employment models could be sustained with or without access to overseas labour.
He said: "Construction offers well-paid jobs that, due to net zero carbon priorities, will be needed in the long-term.
"The easy availability of skilled self-employed overseas workers has reduced the need for UK employers to structure jobs and careers that are competitively attractive in the UK labour market."
He added that post-covid trends suggested that people have become motivated by factors other than pay, such as work-life balance, placing traditionally demanding industries like construction at a disadvantage.
"With a looming low-carbon retrofit boom, there is no doubt that construction needs to attract more skills, which may in turn require a change in business models as well as an increase in pay."
Payroll data from Hudson Contract last month showed that the cost of hiring skilled construction labour climbed by nearly 3% in August.
Average weekly earnings for self-employed people – around 40% of the sector's workforce – increased by 2.8% in the month to £929 per week.
The steepest month-on-month change was seen in the North-east, where average monthly earnings rose by 7.3% with a year-on-year increase of 5.2%.
Earnings across all regions of England and Wales increased for the second consecutive month, with earnings up by nearly 6% on last year, according to the figures.
And in the East Midlands, demand for new regeneration, housing and infrastructure projects drove labour costs to an all-time high of £1,022 per week with a year-on-year increase of more than 20%.