France's 48-hour ban on freight hauliers from Britain began last night
Construction firms could face extra costs after France shut its border with the UK for 48 hours last night in an attempt to contain a new, more contagious strain of covid-19.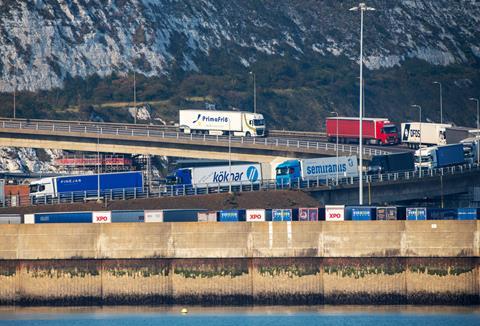 EU member states are currently meeting to discuss a coordinated response after France shut its border with the UK at 11pm last night.
It means no lorries or ferries have been able to sail from Dover since while Eurotunnel said travel from the UK to France has also been suspended – although the route was still open for travel and goods coming in the opposite direction.
But unaccompanied freight, such as containers or lorry trailers on their own, is still able to be transported into the UK.
Flights from the UK have also been suspended in more than 30 countries including Germany, Italy, Belgium, Poland, India, Canada, Switzerland and Hong Kong.
The crisis comes after the UK government put around 18 million people in London and the South East under stricter tier 4 lockdown rules on Saturday night following the emergence on Friday of the new variant of covid-19.
Construction Products Association economics director Noble Francis said delays at the border could exacerbate issues which had already been building before the new restrictions were announced.
He said: "Demand already exceeds supply for some imported products such as steel, timber, roofing products and white goods, given the sharp recovery in some areas of construction since the initial lockdown, so there has been little stockpiling and any further delays could mean an increase in costs and pushing out of lead times."
Civil Engineering Contractors Association chief executive Alasdair Reisner warned that infrastructure works being carried out over the Christmas period "could be affected if there were to be supply chain disruptions".
But Francis added the late December slowdown in site activity could mean that major problems for construction would not be seen "immediately", with those industries relying on just-in-time imports such as supermarkets and car manufacturers more likely to be hit.
"The largest impacts are at ports dealing with the most lorry traffic rather than shipping containers, which are ports on the south coast, primarily Dover. Most construction products arrive in the UK on the East coast and tend to be less reliant on lorry traffic from the EU," he said.
Cenkos analyst Kevin Cammack added: "I guess it's lucky that the building trade basically shuts down for two weeks over Christmas giving a chance for some backlogs to potentially unwind and any transactional issues to be resolved."
The French government said late this morning that it is looking to get freight moving into the UK within "the next few hours".
Prime minister Boris Johnson issued people living in all 32 London boroughs and a string of neighbouring counties a stay at home order after covid infection levels were found to have soared over the past week, with the new covid strain blamed for the increase.