Outgoing prime minister tells next PM to 'go large and go nuclear'
Boris Johnson has pledged £700m to support the development of the proposed Sizewell C nuclear plant.
In a speech yesterday at Sizewell, the outgoing prime minister said he was "absolutely confident" that the plans would get over the line in the next few weeks.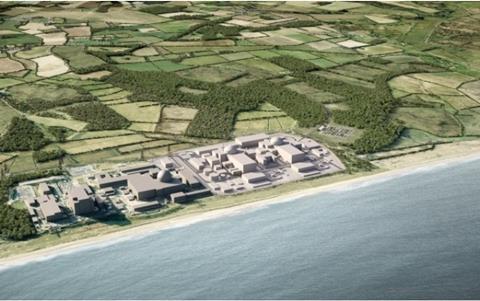 Planning permission for the new facility on the Suffolk coast was granted by business secretary Kwasi Kwarteng earlier this year and the government is set to take a 20% stake in the plant.
Johnson criticised previous governments for their "short-termism" in failing to back nuclear, claiming it had contributed to spiralling energy bills in the aftermath of the Russian invasion of Ukraine in February this year.
"Let's think about the future, let's think about our kids and our grandchildren, about the next generation," he said.
"And so I say to you, I say go nuclear and go large and go with Sizewell C."
The recently nationalised French energy giant EDF owns a further 20% stake in the project, which will generate electricity for six million homes for up to 60 years once complete.
Barclays has been tasked with finding investors for the rest of the investment, with pension and infrastructure funds viewed as the most likely candidates.
The facility, which would sit alongside the existing Sizewell B plant, built by Laing Construction in the mid-1990s and slated for closure in 2035, is now expected to cost up to £30bn.
The taxpayer contribution to that is expected to be around £6bn, which the Department for Business, Energy and Industrial Strategy estimates will add an extra £1 per month to household bills – although research by the University of Greenwich business school said it could be more than double this amount.