Mayor of London unveils plans for 20 'housing zones' across the capital to speed development of 50,000 homes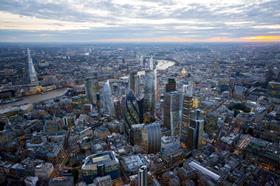 Boris Johnson has revealed the details of 20 sites where up to 50,000 new homes will be built as part of a drive to speed up development in London.
The mayor of London said the 20 new housing zones comprised local authority land that has been packaged together with planning permission for housing development.
Development on the housing zones is backed by the government in the form of loans to local authorities for necessary infrastructure and other remedial work on the site.
Last November the mayor of London's Housing Strategy set out plans for ten potential housing zones.
But now the Johnson has unveiled 20 zones, with the government and the Greater London Authority (GLA) each offering £200m in finance.
The mayor of London has also been granted stronger planning powers, in the form of Mayoral Development Orders, to remove planning obstacles to development on the sites.
The development push in London comes after the chancellor last week unveiled reforms to planning rules to free up development on brownfield land as part of a bid to enable planning permission for as many as 200,000 homes.
Speaking at the annual Lord Mayor's Banquet at Mansion House in London, the chancellor said the move would let developers build on almost all brownfield land.
The new reforms will force councils to put in place pre-approved planning permissions on brownfield sites that are suitable for housing.
He said local authorities would apply local development orders (LDOs) onto the sites with over 90% of suitable brownfield land to be covered by such orders by 2020.
Boris Johnson said: "Housing is the biggest challenge facing London's economic development and these new £400m housing zones will turbo boost housing supply across the capital.
"This major regeneration will transform communities and provide up to 50,000 much needed homes."
The government will also be creating ten new housing zones outside London.
This will be backed by up to £200m in government loans for infrastructure and clean-up work on the sites.
The funding for housing zones will be allocated by competition.