Government can "take advantage of record-low interest rates"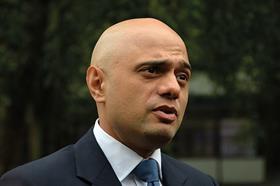 The government has been urged to borrow more money for fund the building of hundreds of thousands of new homes.
Speaking on the BBC's Andrew Marr show, communities secretary Sajid Javid (pictured) said he wants to ensure that they are "using everything we have available to deal with the housing crisis", including taking advantage of "record-low interest rates".
The government has previously described the current housing market as "broken" as the UK struggles to keep up with increasing demand.
Javid said successive governments had failed to build enough homes, and that the housing crisis being faced was "the biggest barrier to social progress in our country today".
He added that between 275,000 and 300,000 homes a year need to be built to tackle the shortage in affordable housing.
"What I want to make sure of is that we are using everything we have available to deal with this housing crisis and where that means, for example, that we can sensibly borrow more to invest in the infrastructure that leads to more housing, take advantage of some of the record-low interest rates that we have, then I think we should absolutely be considering that," said Javid.
"I'd make a distinction between the deficit, which needs to keep coming down and that is vitally important for our economic credibility.
"We have seen some excellent progress on that but investing for the future, taking advantage of record-low interest rates can be the right thing if done sensibly and that can be done, not with the housing itself, but one of the big issues is infrastructure investment that is needed alongside the housing."
Javid's comments come as he launches a call for evidence on making the home buying process cheaper, faster and less stressful foe those involved.
Everyone with an interest in buying a home, including estate agents, solicitors and mortgage lenders are being encouraged to put forward their views, ensuring that issues are addressed across the whole sector.
Views will be taken on:
Gazumping – Buyers are concerned about gazumping, with sellers accepting a higher offer from a new buyer, we will look at ways this could be tackled;
Building trust & confidence - Mistrust between parties is one of the biggest issues faced, we want to look at schemes including 'lock-in agreements'. Although one million homes are bought and sold in England each year, around a quarter of sales fall through and hundreds of millions of pounds are wasted, we want to increase confidence in the housing chain;
Informing customers - How to provide better guidance for buyers and sellers, by encouraging them to gather more information in advance so homes are 'sale ready';
Innovation – You can now search for a home online, but the buying process is too slow, costing time and money so we're looking for innovative digital solutions including making more data available online.
"We want to help everyone have a good quality home they can afford, and improving the process of buying and selling is part of delivering that," said Javid.
"Buying a home is one of life's largest investments, so if it goes wrong it can be costly. That's why we're determined to take action to make the process cheaper, faster and less stressful.
"This can help save people money and time so they can focus on what matters – finding their dream home. I want to hear from the industry on what more we can do to tackle this issue."