Craig Tatton has been with the construction company for three years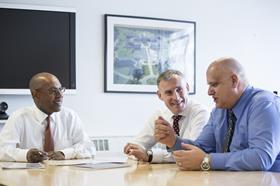 Craig Tatton, Bouygues UK's chief operating officer, has left the business to pursue other interests, the company has revealed.
Tatton (pictured, centre), who joined Bouygues UK in 2014, had led the firm's Thomas Vale Construction operation until October last year, when Bouygues dropped the brand name after relocating its Midlands operations to a new Birmingham city centre office.
He was appointed COO of Bouygues UK in January this year, having been managing director of its North & Midlands operation since last October.
In a statement Bouygues said: "Following the successful integration of Thomas Vale into Bouygues UK, including establishing our office in Manchester, Craig Tatton has left to pursue another career opportunity.
"Bouygues UK is performing well, in line with expectations and we thank Craig for his valuable contribution and wish him every success for the future."