Housebuilder adds that relations with supply chain need improving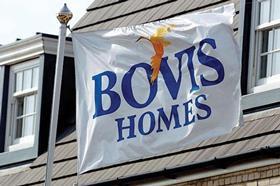 Housebuilder Bovis is considering expanding its use of offsite construction techniques as it responds to serious production problems which helped send the firm into the red last year.
On Monday, the firm said pre-tax profit was down 3% to £154m in the year to December 2016 on revenue of £1.05bn, up 11%.
It also said it was setting aside a £7m pot to sort out problems on its homes which have led to angry customers setting up a 'Bovis Homes Victims Group' on Facebook.
Interim chief executive Earl Sibley told Building the firm was looking to offsite as part of an "end-to-end" review of production at the firm. He added: "We're looking at the methods of build. We already do some timber frame, whether we might extend that is something we will look at.
"We're looking at how potentially we may use that because it does tap in to slightly different pools of labour. But we're open-minded to trials in other directions as well."
He admitted that the firm's relationship with suppliers were not consistently good enough and said it was now offering to pay suppliers weekly in order to help them with cash flow. He added that it was also looking to limit retentions held against those working on multiple sites.
Sibley said the firm was also reviewing its business structure and considering stricter limits on land purchases. But he declined to comment on reports Bovis shareholders are attempting to have the business put up for sale.
The firm said it would cut the number of homes it builds this year by up to 15% in order to get a grip on production issues.