Mark Francois was initially named as Lewis' replacement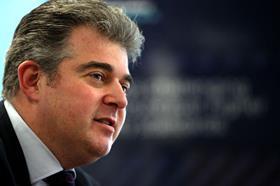 Brandon Lewis is to remain housing and planning minister, after a mix-up at the department yesterday resulted in fellow Conservative MP Mark Francois being named as his replacement in the role.
A spokesperson for the communities department confirmed Lewis will stay on as housing and planning minister in David Cameron's new cabinet, while Francois' responsibilities as a minister at the department are yet to be confirmed.
Francois was initially listed as housing and planning minister on the communities department website after Cameron put him in his cabinet yesterday.
Cameron pressed on with the final round of appointments for his cabinet today. James Wharton becomes a junior minister for the 'Northern Powerhouse' within the communities department.
The 31-year-old former solicitor and MP for Stockton South will be responsible for boosting jobs and growth in the north.
It has also been confirmed that Matthew Hancock is to replace Francis Maude as minister for the cabinet office. The role partly entails cutting the size of the government's estate and costs from major public sector construction projects.
Hancock, MP for West Suffolk and former Bank of England economist, who specialised in the housing market, will also serve as paymaster general.