Materials firm hails £455m takevover earlier this year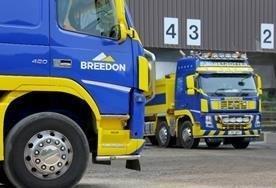 Materials firm Breedon said its £455m takeover earlier this year of Northern Ireland-based Lagan Group helped bump up turnover in the first half by 16%.
Breedon said April's deal had "exceeded our expectations" with Lagan, which is separate from Lagan Construction Group, adding nearly £8m to its new parent's underlying profit which came in at £42m.
The Lagan deal was by far the largest of the four the firm completed in the six months to June with others including snapping up a Stoke-based concrete operator called Staffs Concrete and buying the Blinkbonny Quarry near Kelso in the Scottish borders.
Pre-tax profit slipped 3% to £30.4m with the firm saying it had been hit by the bad weather earlier this year and rising costs on transport and energy. Revenue was up £58m to £378m.
Breedon executive chairman Peter Tom said the Lagan deal will "provide a valuable economic counterpoint to the continuing short-term challenges of our markets in GB".
But Tom said: "We continue to view the medium- to long-term outlook in GB positively, with infrastructure spending forecast to increase steadily over the next three years and Government strategies to address our chronic housing shortage expected to fuel continued growth in the residential sector."