British Land says build costs are rising as it reports strong full-year results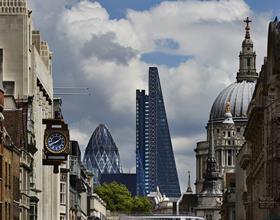 British Land is braced for 6%-a-year construction cost inflation as input costs rise and contractors push for higher margins, the developer has said in strong full-year results posted today.
British Land noted construction costs had risen and it expects them to rise by 6%-a-year, but added "the impact of cost inflation has been largely offset by improving [property] values". The firm added that 87% of its costs on projects under-construction were fixed.
British Land said its strategy of focussing on development in London and the South-east had helped it increase pre-tax profit almost two-thirds in the year to March 2015 to £1.8bn, up from £1.1bn the previous year.
The value of the developer's property portfolio also sharply jumped 12.1% to £13.6bn.
British Land made no new development commitments, but said it hopes to submit a planning application for its mammoth seven million sq ft Canada Water mixed-use scheme in 2016.
Chris Grigg, British Land chief executive, said the strong results reflected the "strategic decisions we have taken over the last five years to re-position the business, alongside the strength of our day-to-day asset management activities."
Grigg singled out "exceptional" leasing for office and residential developments in London, with the Leadenhall Building noted as a standout performer.
Currently 84% of the tower is let or under offer, up from 53% at the start of the year, and has achieved "rental highs for the City." The firm noted that in the wake of the UK economic recovery London "continues to outperform".
The company is also seeing the burgeoning technology and creative sectors account for a growing proportion of its occupiers. Last month Facebook almost doubled its office space in British Land's 338 Euston Road building.
In April 2015 after the year-end British Land acquired One Sheldon Square for £210m. The 200,000 sq ft freehold office space is fully let to Visa Europe Services until December 2022.
Taking advantage of "buoyant markets" the firm disposed of mature assets worth £903m in the year, including the £733m property exchange with Tesco and £123m of further superstore sales, reducing its exposure to standalone food stores to under 7% allowing it to position itself more in multi-let assets, which it sees as the way forward.
The company's retail portfolio is now virtually full and has seen the highest rental growth for seven years.