Scheme at 2-3 Finsbury Avenue designed by Danish architect 3XN
British Land has said it expects work to start on a new City tower it is developing later this year as the firm said demand for top-end space in the capital was rising among tenants.
The firm behind a swathe of high-profile office buildings in the City in recent years, including Sir Robert McAlpine's 100 Liverpool Street scheme at Broadgate as well as the Cheesegrater, built by Laing O'Rourke, said work on the 37-storey office block at 2-3 Finsbury Avenue, set to be built by McAlpine, could start in the third quarter of this year.
It said demand for office space in London was being driven by the technology, banking and legal sectors and added: "Demand is clearly gravitating towards the very best space, with an emphasis on sustainability, wellness, shared and flexible space and excellent transport connections. This part of the market is achieving premium prices."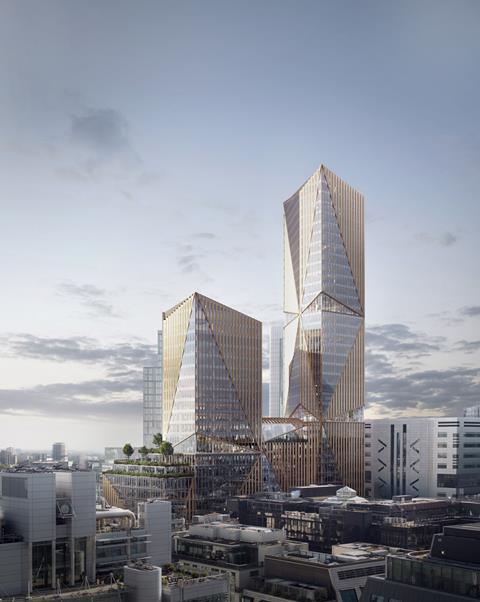 Designed by Danish architect 3XN, the scheme in Broadgate is slated to begin in the third quarter and is expected to cost more than £500m.
The developer added: "Embodied carbon on this building is projected to be market leading for a high rise tower below 750kg CO2 per sq m benefiting from the use of existing and other recycled materials. We expect to start on site later this year."
The work will see two buildings at 2-3 Finsbury Avenue built by British architect Peter Foggo in the 1980s knocked down and replaced. As well as the taller East tower, the scheme will feature a smaller, 20-storey West tower with the pair linked by a 13-storey podium that will contain green spaces and communal areas.
In its annual results released this morning, British Land said it expected construction cost inflation to be between 8% and 10% this year but added that it had fixed 91% of its prices on its committed development programme of 1.7m sq ft.
It said: "Forecasting is difficult with elevated uncertainty, but our base case is for construction cost inflation to moderate to 4-5% over the next 18 months as commodity, transportation and energy prices continue to increase but at a lower rate and capacity in the construction industry slowly increases."
The firm is also expanding its logistics portfolio, shelling out £295m last year to acquire assets in the sector including spending £157m on a site at Wembley which is designed to act as a hub for central and west London.
Last August it spent £20m on buying up the Finsbury Square car park in the City of London which it wants to turn into a logistics hub.
It added: "The chronic shortage of space in London is the key theme underpinning our focus on this part of the market. Demand is strong reflecting the growth of e-commerce and in particular rising consumer expectations for same day/next day delivery."
British Land, which is also behind the redevelopment of Canada Water and Skanska's Norton Folgate scheme on the City fringe, added it was looking at turning the Euston Tower, built in 1970, into a scheme "targeting life sciences and other innovation businesses leveraging its location in London's Knowledge Quarter". It expects to submit planning next year.
The firm made an after tax profit of £960m in the year to March compared to a £1bn loss last time.