Nigel Webb, head of development at British Land, talks to Dave Rogers about the return to the office, the developer's upcoming projects and the need for construction to become more like the car industry if it wants to up its margins. Portrait by Jean Goldsmith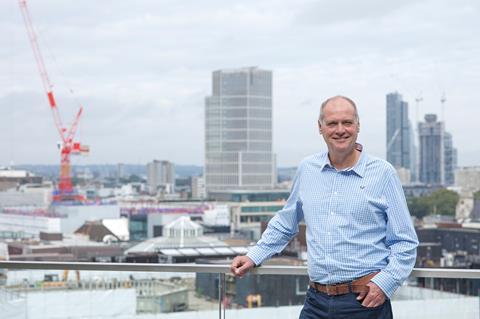 "He denies ever saying it now." Nigel Webb is recalling the time his eldest son, then aged 10, sat down at a meal one particular family holiday and told his dad he needed to have a talk. "He said: 'Dad, I have something to tell you.' I thought: what is he going to say? Anyway, he said: 'Dad I think I'm a Man United fan'. I said: 'If you want to support Man United we will never talk about football again'. I took him to Elland Road and bought him the full kit. He's an ardent Leeds fan now."
Born in South Yorkshire but raised further up the Ridings in Bingley, Webb has been following the club since he was a child in the 1970s and is taken aback that – whisper it – some people have a soft spot for Leeds now after entertaining the Premier League last year on their return. When he started supporting the team, the moniker Dirty Leeds was at its most damning with rivals upset at what they saw as the side's gamesmanship and fouling. Brian Clough, who took over as manager from Don Revie for, famously, just 44 days, told all the players they had won their medals in the Revie era through cheating. "It's amazing," Webb marvels. "All these years, we've been everyone's most hated team."
What goes under the bonnet of a BMW car is generally pretty standard; it's the model that looks different. Why aren't buildings more like that?
The head of development at British Land tries to get up to Elland Road as much as he can and is hardcore enough to go to Millwall away – a fearsome place for any fan, especially those of Leeds. "Last time I was there we were in the Championship. The Millwall fans were lobbing glass bottles at us. The police did nothing. It was like going back to the 1970s."
A chartered surveyor by background, the 57-year-old's commitment to construction is almost as long, having joined the developer 30 years ago next March, while he has been in his current role since 2003.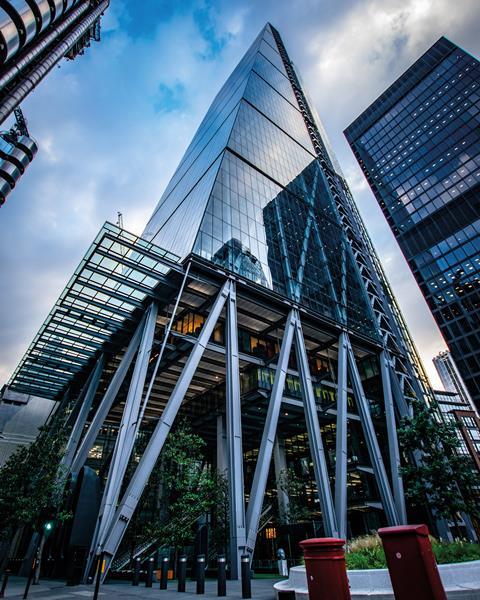 He is in charge of a development programme that has typical spends of around £1.5bn a year and has helped mastermind some of London's most notable landmarks in recent years, including the Cheesegrater building. "Leadenhall is right up there," he says of the Rogers Stirk Harbour + Partners-designed tower. "The scale of the building, the beauty of the architecture, the engineering – it was second to none. As a project to work on, it was brilliant."
He is talking at British Land's most recently completed building, 100 Liverpool Street in the firm's Broadgate campus. Occupiers include banks Peel Hunt and SMBC, law firm Milbank as well as retailers such as Tommy Hilfiger, Reiss and Space NK. Designed by Hopkins and built by Sir Robert McAlpine, the scheme was delayed by the pandemic when British Land, like others, took the decision to shut down sites in the wake of the first lockdown last March. "It was amazing having to close down sites," he recalls, still incredulous he had to ring up firms to tell them to send workers home. "I'd never been through that in my career before. You're calling up your contractors, saying we just have to shut your site."
The post-pandemic office
Comparing the global financial crash with the pandemic is difficult, he says, because no one in living memory had been through a pandemic before. "In a recession, you've got historic reference points, you can see the cyclicality of it. This was unprecedented. We always believed London was going to be one of the global winners for all the reasons people invested in London in the first place."
Last week, with holidays coming to an end and schools going back, developers like British Land were on tenterhooks for their particular version of the City of London's Big Bang in the 1980s.Trains, tubes and buses are fuller and those startling images of swathes of London utterly empty are a thing of the past.
Nigel Webb offsite
Football seems to follow Nigel Webb everywhere. The plumber he uses at his Hertfordshire home is Andy Linighan, the scorer of an FA Cup Final winning goal when he was at Arsenal with the Gunners, beating Sheffield Wednesday 2-1 in the 1993 final. Webb crossed paths with another Arsenal old boy a few weeks ago at a wedding. "David O'Leary was sat in front of me and I couldn't help myself," he says of his encounter with the Irishman who later went on to manage his beloved Leeds after his playing career at Arsenal finished. "He's a bit of hero of mine so I slapped him on the back – I'd never met him before and I think he was a bit bemused by it all. But I caught up with him later. Lovely bloke."
Bumping into Arsenal old boys aside, Webb rediscovered his passion for painting during lockdown. "I used to do watercolours when the kids were younger. I'd get my paints out and they'd want to paint with me. By the time I'd got them set up and ready to start, they were bored; so I stopped doing it for years because it was too much hassle. I started again with oils – been doing it for a year, 18 months now. It's early days but I plan to do more of it." His children, aged 31, 28 and 26, have all flown the nest now and, fittingly, all work in property. But lockdown had one unexpected benefit. "For the first couple of months, I had two of my children come home and work from home. I never thought I'd spend so much time with the kids again. It was lovely."
"I think we were all holding our breath a little bit for 6 September. I think that's when most businesses said 'okay, enough is enough, let's try and get back to the workplace'. I think we are starting to see that and it will build up."
But caution remains among some of those coming back to work, with reports of train commuters even refusing to move bags from vacant seats because others aren't wearing face masks. Webb says: "Our view is that working practices have changed for good. I don't think we're suddenly going to go back to pre-pandemic levels. The office still has a future, I think the norm will be a two-days, three-days split. That's what we're hearing from our customers. But then it's about how you make sure those three days are worth them coming into the workplace for."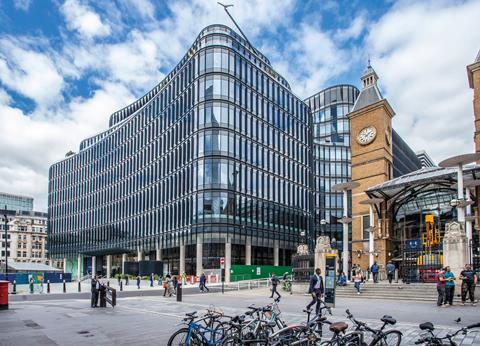 He says it's about the quality of the space and what it looks like. The busiest days will be Tuesdays, Wednesdays and Thursdays, with the requirement for desks reducing but those that stay having bigger spaces. "If you've got people working three days a week, it doesn't mean you're going to lose 40% of your space. There will be a lower density, but I don't see a massive shedding of space."
Like everyone else, Webb has missed human interaction as the lockdowns dragged on. He didn't mind the first one. "We were fortunate; people of a certain age have got a house, a study, a garden. The weather was great. There was something quite nice about it. I just sorted my life out – I'd never had time to do that. I thought it was brilliant for that; I feel so much in order."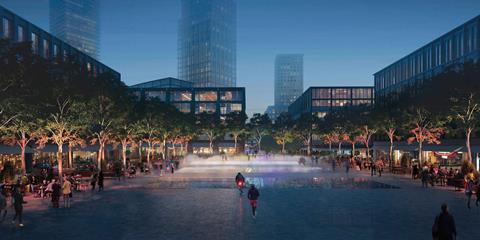 But he adds: "You realise you miss meeting and seeing people. It took a little time to realise the social interaction had gone from your life. Things like Teams have allowed us all to keep our businesses going, and I'm amazed at how much we've achieved in the last 18 months under the circumstances, but you definitely miss the bits around the edges, the water cooler moments picking stuff up.
"It's very difficult to build a culture over Teams. We've traded on the culture and the goodwill we've built up from all those years before, working together. If British Land was to suddenly try and get 500 people who've never met before and try to build a culture and organisation over Teams, we wouldn't be half as effective as we are now."
He worries about the impact on people's mental health from repeated lockdowns and adds: "Talk to the lawyers. They're desperate to get the youngsters back for training, picking up tips and things in the office. You can't do that over Teams."
From car park to distribution hub
Last month British Land paid £20m to transform an underground car park in the heart of the City into a warehouse for online shopping deliveries. The FTSE 100 firm said the Finsbury Square car park offers an "excellent opportunity" to create a hub in the Square Mile, where supply for last-mile deliveries is "highly constrained". Webb will be in charge of making it happen but cautions: "We are not about to become a shed-builder. This is about last-mile logistics in tight urban locations."
In a nutshell, British Land will turn the former NCP car park into a distribution point where electric bikes, vans or scooters will arrive and pick up parcels for delivery around the city. "It's got be sustainable; we can't have petrol motors going in and petrol motors going out." The exact details of how it will look are being worked out, but Webb says it could go down underground by as much as three levels.
The firm is looking at more, and Webb raises the possibility that parts of its Broadgate campus could be turned into a hub as well. The firm had been looking at the idea before the pandemic hit, but the arrival last November of new chief executive Simon Carter – taking over from Chris Grigg, who in April became the first chair of the UK Infrastructure Bank – has speeded things up, given Carter's previous experience working for logistics business Logicor.
"With Simon coming in, I guess it has accelerated. We think we have got a competitive advantage. We know the London market well and we're used to dealing with complex sites in terms of planning and construction logistics. It's quite a new area, but there's huge growth in it." The firm is concentrating on sites within the M25 and in the spring paid close to £90m for a former Waitrose distribution hub in Enfield.
Webb says he has already had contractors knocking on his door to find out more. He thinks the work will be for smaller, regional firms. "If you look at the people we are working with, it's probably not their forte. It's a huge opportunity for offsite. With tight sites, we have to do more and more offsite manufacture. Ideally, those we work with will have offsite capability."
Work in progress
In a sign of commitment to the office market, McAlpine began work on the developer's 1 Broadgate scheme in May. Designed by AHMM, the £300m job involves tearing down the original 1980s building and replacing it with 546,000ft² of new office and retail space.
British Land is also in talks with McAlpine about its next tower, a 37-storey scheme expected to come in north of £300m, designed by Danish architect 3XN, at 2 Finsbury Avenue on the Broadgate campus – with the developer getting possession of the site next year. It is also mulling what to do with the Euston Tower, a 1960s block at its Regent's Place campus. "It's not the easiest one," Webb admits. "We'd like to maintain the existing structure from an environmental point of view but it's got limited capacity." It will either get a big overhaul – "the cladding is past its sell-by date", Webb says – or British Land will knock it down and start again.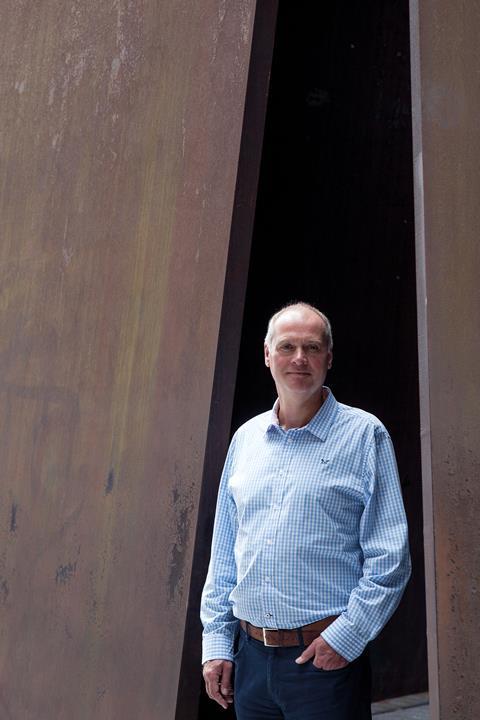 Much of its work at Broadgate is done by McAlpine under a framework it set up with the contractor several years ago. "We had a number of projects going on at one time and we didn't want two or three contractors running around on site. We wanted to get the benefits of learning from project to project with one firm."
Webb says that in his near three decades at British Land, the industry has changed "but not as much as it should have done". He adds: "I'm quite critical of our industry and having been in it for 30 years, I think I've got the right to be. We are very slow to adopt change. If you look at [the] automotive, aeronautical [industries], the construction industry has been left behind."
Construction, he adds, doesn't spend enough on research and development because of "frighteningly thin" margins. "As soon as we hit a downturn, everyone stops spending, downs tools, a couple of years later starts up again but from a worse position because we've lost a lot of the skillbase that has gone out of the industry. Our rate of progression in improving what we do is very low."
He says some progress has been made with digital design and engineering and offsite manufacturing but adds that it should have moved on a lot further. "Certain people embrace it more than others. There needs to be more standardisation instead of reinventing the wheel every time we do a project. What goes under the bonnet of a BMW car is generally pretty standard; it's the model that looks different. Why aren't buildings more like that?"
People haven't got the time or the margins to stand back and think 'how do we do things differently next time?' They just roll on to the next job
A few weeks ago, Webb was taken on a tour of Hinkley Point C, the new nuclear power station being built in Somerset. "Wow," he says. "The scale is mind-blowing. It's massively impressive." He thinks Hinkley could be construction's Formula 1 moment. "Some say F1 is a bit of a glory sport. A lot of money goes into F1 but part of what comes out of F1 is engineering that finds its way into normal car manufacturing. I think on something like Hinkley lessons will be learnt from that and they will start to trickle down into what we do in our day-to-day jobs."
There needs to be much more offsite manufacturing, he says, to counter the numbers leaving the industry whether through Brexit, retirement or simply moving on. "We have to get better at it. The [shrinking] workforce is a huge problem for us. There are only two ways we are going to get round it. One is less reliance on the workforce, which means more offsite manufacturing, and the second is making sure we skill people up appropriately."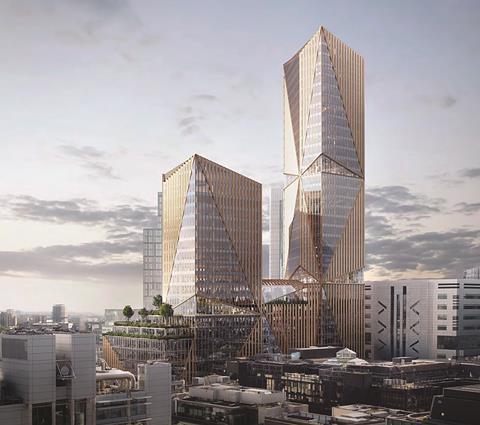 He is aware that some contractors will say the margins they make prohibit them from investing in the sort of things he is talking about. "People haven't got the time or the margins to stand back and think 'how do we do things differently next time?' They just roll on to the next job.
"The biggest issue is trust, in our industry; it can be quite adversarial. Frameworks remove that adversarial nature. The industry could turn round and say 'pay us more money' but actually I think the way to do it is to get more efficient at what we do and then people can make better margins."
He says the capacity for change is greatest among the tier 1 contractors. "The bigger issues are down the supply chain. With the tier 2 and tier 3s, it's harder to get change. As you go down, it becomes more hand to mouth."
But the industry has to start somewhere, and at the top is as good a place as any, Webb says. "We're always going to be building buildings. We have got to find a way to be more profitable. We never want people to lose money on our jobs. It's no good to us if big tier 1 contractors go under because they can't make money out of it. We want them to make good money and be there for the next job – and to be able to do the next job better. We want improvement as we go along and we have a duty of care to help them achieve that."