New building will help replace Blythe House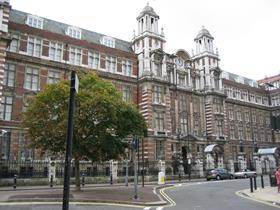 The British Museum is on the hunt for a main contractor for its new storage and research facility in Berkshire.
In a contract notice posted on the Official Journal, the museum confirmed its new Archaeological Research Collection would be housed in a new storage facility.
The new 15,500sq m building, which is being developed in partnership with the University of Reading, will include both storage and office areas.
Contractors have until 5 July to flag their interest in the project, with shortlisted bidders expected to be invited to tender on 9 August.
In December, the museum confirmed the new facility, which will be located next to the Thames Valley Science Park in Shinfield, would become the home of collections from Bloomsbury and Blythe House (pictured) in London.
Blythe House is currently home to around two million objects from the collections of the British Museum, Science Museum and the V&A, and is due to close in 2023.
The facility is set to make the study collection more accessible for research and for loans across the country and internationally, and will include study rooms which will give university students, academics and members of the public access to the collection.
The contract to build the facility is expected to kick off in the middle of December, with work due to wrap up at the end of June 2020.