Contractor and owners of stalled City tower project reach settlement over unpaid fees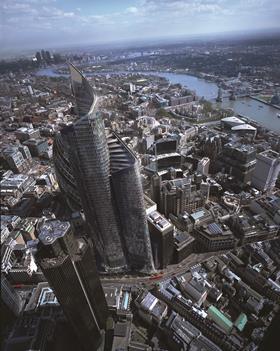 A £16m legal wrangle between the developer of the £1bn Pinnacle tower in the City of London and contractor Brookfield Multiplex has been settled, removing the imminent threat of insolvency from the stalled project.
As Building reported last month, the owners of the Pinnacle - the City of London's tallest tower project - offered a settlement to end a legal dispute with contractor Brookfield Multiplex over £16m in unpaid fees.
Now Brookfield has confirmed it has reached an agreement with the owners of the scheme.
In a statement the firm said: "Brookfield Multiplex can confirm that an agreement has been reached on outstanding payments relating to construction work already carried out and as part of the settlement Brookfield Multiplex will now work with the investors to refine the scheme."
The firm would not comment further on the detail of the settlement, which forms part of a wider review of the financial agreement between Brookfield and the scheme's owners designed to take the first steps in restarting construction of the Kohn Pederson Fox-designed tower.
According to Building's sister title Property Week, the first stage of this process will involve a three-month review by Brookfield of the scheme with the intention of reducing its construction cost, which under current plans could be as high as £1bn. This process began this month. It is not certain whether this could lead to a comprehensive redesign.
As first revealed in Building, the owners of the Pinnacle had been ordered by the High Court to pay Brookfield Multiplex £16m, after it failed to file a defence against the contractor's legal claim.
Brookfield launched the legal claim in a bid to recover four separate interim payments for work undertaken under its £593m building contract for the 63-storey tower.
The court order gave Brookfield Multiplex the option to bring a winding-up order against the three special-purpose vehicles that own the development on Bishopsgate.
The agreement between the parties removes the imminent threat of insolvency from the project.
However, it is still no clearer when the project, which has lain dormant for almost a year due to funding issues, will restart.
The scheme is majority-owned by SEDCO, a Saudi Arabian investment manager, with a Sharia-compliant fund managed by Pramerica also owning a stake.
The project is being developed by Arab Investments, the property company set up by Kahlid Affara.