Redesigned tower will boast 25% more floor space than original Pinnacle scheme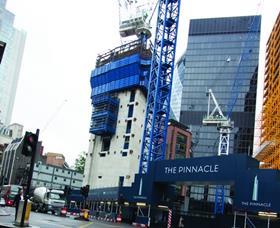 The new owners of the Pinnacle tower scheme in London's Square Mile are targeting starting construction this year, with a completion date of the end of 2018.
Building has learned fund manager Axa and developer Lipton Rogers – which exchanged contracts to take over the long-stalled site from its former Saudi Arabian owners yesterday afternoon – are in negotiations with City of London planners and intend to submit a radically redesigned scheme for planning in time to start on site this year.
A source close to the scheme described the new designs as "simple, a more rational form and not ostentatious like the Pinnacle was".
The source said the new tower will be shorter than the previous 288m-tall Pinnacle, but will cram on "near" to two million sq ft of floor space, a quarter up on the original 1.6 million sq ft Pinnacle planning consent.
Designs for the scheme leaked on Skyscrapercity yesterday were working models for the new design and not final designs, the source said, adding: "It's a slicker building than has been seen."
The scheme has dropped the Pinnacle name for the more prosaic '22 Bishopsgate'.
In a statement this morning Axa Real Estate confirmed the acquisition of the site with development partner Lipton Rogers and the planned construction timetable, adding it will incorporate offices, retail, restaraunts, bars and a public viewing gallery at the top of the building.
Anne Kavanagh, global head of asset management and transactions at Axa Real Estate, said: "The acquisition of 22 Bishopsgate represents a significant opportunity to purchase a prime office development site at one of the most desirable office locations in the City of London."
Sir Stuart Lipton said Lipton Rogers had been working with PLP Architects and WSP on the replacement designs for over three years. He added: "We have developed an innovative design for an exceptional office tower with art and character, shaped to respect views of the City and designed to be […] a new vertical City campus reflecting the City's ever changing consumer base."
Lipton's design team includes architect Karen Cook at PLP, who designed the original Pinnacle and its distinctive helter skelter shape when she was at KPF before leaving to help set up PLP in 2009.
Cook said: "We will work with Lipton Rogers Developments and AXA Real Estate to design what will become an exemplary building, setting new standards, for the world class workforce that is London."
WSP said it will provide a raft of consultancy services on the project, including structural, building services and fire engineering; acoustics, transport and logistics, waste, façade access, energy & sustainability and security services.
Kamran Moazami, WSP project director, said: "We're proud to be working on this project using our combined UK and global expertise on tall building design. It will be the next great gift for London, and is a once in a lifetime project to be involved in."
The Pinnacle and its helter-skelter shape were first conceived 14 years ago (see box below), but it proved too costly to build and contractor Brookfield Multiplex abandoned work after just nine storeys of concrete core were constructed in January 2012, earning the scheme the nickname 'the stump'.
Commenting on the old Pinnacle design, the source said: "The old one was a marked building. It was an iconic building, that was why it fell foul due to the cost."
Lipton Rogers was founded by veteran developer Sir Stuart Lipton and former Stanhope director Peter Rogers in 2013 to focus on developing cost-efficient office buildings.
Building first revealed last November that Lipton Rogers was the developer involved in the exclusive talks to buy the development with Axa. Building first linked Lipton Rogers to the Pinnacle scheme in February 2013.
Lipton Rogers' project design team also includes cost consultant Alinea, landscape consultant West 8 and lift consultant Vertical Transportation Studio.
The City of London has been expecting a fresh planning application with an entirely new design for the mothballed site since at least last autumn.
Property agent CBRE was drafted in by majority owners Sedco and sharia-compliant fund Pramerica in 2013 to explore options for reviving the scheme and this process has now completed.
The Pinnacle saga: Death knell for helter skelter 14 years on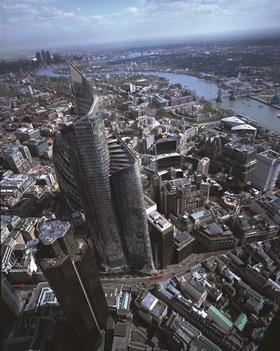 2001 - Pinnacle scheme first proposed
April 2006 -Pinnacle wins planning permission
Five years after first being mooted, German fund manager DIFA and architect KPF win planning permission for the Pinnacle. By this point the Pinnacle had successfully overcome opposition from English Heritage, Westminster City Council and the Civil Aviation Authority – which succeeded in getting 20 metres sliced off the top because of safety concerns – and won backing from the then London mayor Ken Livingstone.
May 2007 - DIFA sells the Pinnacle to Arab Investments
August 2007 - Helter Skelter takes Multiplex into a U-turn
Brookfield Multiplex is lined up for £500m contract to build the Pinnacle, then also popularly known as 'Helter Skelter', despite saying the previous year it would only build out its own schemes, rather than taking on third-party construction work.
January 2009 - Brookfield to build Pinnacle for £575m in City
After protracted negotiations, Brookfield Multiplex secures the Pinnacle contract, now worth £575m. However, a lack of both funding and a pre-let means progress is glacial over the next two and a half years.
September 2011 - Debt deal agreed for Pinnacle tower
HSBC and HSH Nordbank agree a £500m debt facility with the scheme's Middle Eastern owners to allow above-ground construction to commence.
January 2012 - Developer confirms Pinnacle tower on hold
Finance dries up and a pre-let is still not forthcoming, prompting construction on the Pinnacle to halt after just nine floors of concrete core.
October 2012 - Brookfield sues the Pinnacle for £16m
Building reveals contractor Brookfield is suing the owners of the Pinnacle for breach of contract and is claiming £16m in unpaid fees.
January 2013 - Brookfield agrees deal to end £16m Pinnacle row
Brookfield reaches a settlement with Pinnacle over legal claim. Later, the owners of the tower secure an extension of a £140m bank loan to buy them more time, and start a review of the scheme's design in an attempt to make it more viable.
February 2013 - Pinnacle may be scrapped and rebuilt from ground up
Building links Lipton Rogers to the Pinnacle for the first time, revealing the fledgling developer is drawing up a proposal for the scheme. We also reveal the nine-floor Pinnacle 'stump' could be knocked down and rebuilt from the ground up as a result of the ongoing design review.
July 2013 - Pinnacle seeks funder to kickstart tower
Pinnacle's Saudi Arabian owners draft in property agent CBRE to search for new funding to revive the mothballed scheme. They later reconfigure the existing KPF design with changes to the floor plates to maximise office space.
December 2013 - Rival teams vying to take on stalled Pinnacle tower
Building reveals two heavyweight teams are lining up rival bids to take on the Pinnacle. The first comprises Lipton Rogers, PLP, WSP and Alinea. The second comprises US developer Hines, former Shard project architect William Matthews, and Canadian practice Adamson. Building discloses the Pinnacle's original architect at KPF, Karen Cook, is now designing a rival design for her new employer PLP. Sir Stuart Lipton confirms his interest for the first time, saying he is "looking at the existing CBRE proposal", although we report a fresh design is possible.
January 2014 - PLP confirms plans for Pinnacle
PLP confirms Building's story that it is drawing up a rival design for the Pinnacle for Lipton Rogers.
September 2014 - City primed for new Pinnacle tower plan
The City of London tells Building's sister title BD it is expecting a fresh planning application with an entirely new design for the Pinnacle site.
November 2014 - Lipton Rogers closes in on deal to revive stalled Pinnacle tower
Building reveals Lipton Rogers is the developer partnered with French fund manager Axa in exclusive talks to take over the Pinnacle.
February 2015 - Deal done: Lipton Rogers inks Pinnacle rescue deal
Building is first with the news that Lipton Rogers and Axa have sealed a landmark deal to take over the Pinnacle.