French fund manager Axa leading a consortium that is in talks to takeover the development of the stalled City of London tower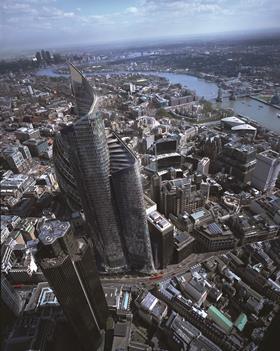 French fund manager Axa is leading a consortium that is seeking to takeover the development of the stalled Pinnacle tower in the City of London, possibly with an entirely new design.
According to EuroProperty magazine, a consortium led by the French fund manager Axa is understood to be fronting a handful of powerful overseas investors and has offered to buy the Pinnacle site from current owners and fund the 63-storey tower's construction.
EuroProperty said Axa's consortium was now in exclusive talks with the owners of the development and was expected to apply for revised planning permission to make the building more practical.
As Building revealed in September, the City of London is expecting a fresh planning application with an entirely new design for the mothballed site.
It is not clear which architects or contractors are connected to Axa's team, but EuroProperty said AXA is likely to take on the role of development manager.
The total cost of developing the Pinnacle is likely to be about £1bn.
Around £400m has already been spent on site acquisition and initial construction costs, including £200m of debt owed to German lender HSH Nordbank.
EuroProperty said AXA is likely to be paying in the region of £220m for the freehold, repaying HSH plus contractor Brookfield Multiplex, which is owed £20m as part of a legal dispute with the owners.
A further £550m will be needed to complete the scheme, taking the total new investment to around £750m-£800m.
On recent London property deals Axa has worked with Chinese state investment fund Gingko Tree Investments and Canadian pension fund PSP.
Background
As Building revealed last December, there were at least two high profile teams seeking to takeover the project from current owners Sedco and developer Arab Investments.
One team is led by veteran developer Sir Stuart Lipton - one of property's biggest names, best known for developing London's iconic eighties Broadgate complex - which is backed by equity investors and has engaged a design team including architect Karen Cook at PLP, who designed the original Pinnacle and its distinctive "helter skelter" shape for her previous employer Kohn Pedersen Fox (KPF).
The project could be Lipton's first under developer Lipton Rogers, which he founded in January with former Stanhope technical director Peter Rogers to focus on affordable office schemes.
US developer Hines was also understood to be lining up a bid with a design team that includes architect William Matthews. Matthews was project architect on the Shard at Renzo Piano Building Workshop before departing in the spring to found his own firm, William Matthews Associates.
The Hines-led team also includes Canada-based delivery architect Adamson.
Both teams have been in contact with property agent CBRE, which was appointed by the scheme's overseas owners earlier last year to source new funding for the project.
The incumbent project team - US-based KPF, joint development managers Arab Investments and Brookfield Multiplex, engineer Arup and cost consultant Aecom - are all still appointed to the scheme, which has been lying dormant since the beginning of 2012 after finance dried up.
The original KPF design for the 1 million ft2 project, which was conceived pre-recession, is now considered too expensive to be viable in the current market.
The tower has been built up to just seven floors and has become known as "the Stump".