Contractor takes management role on revamped project that is expected to include a residential element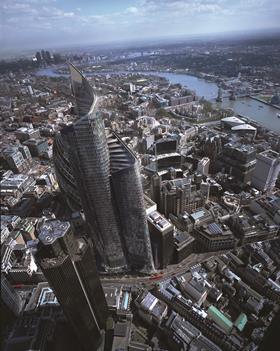 Contractor Brookfield Multiplex has secured an expanded management role on the stalled Pinnacle tower development. The news comes as revamped designs for the tower are set to be launched which are expected to propose a partial change of use from commercial to residential.
Building understands that Brookfield Multiplex has taken on a "hybrid" contractor and project management role on the City tower (pictured), beyond its £593m job as main contractor, and has been working with architect Kohn Pederson Fox and the client to value engineer the designs in a bid to significantly reduce the project's costs. Under current plans the cost could reach £1bn.
It is understood the new plans are aimed at simplifying the 288m-tall helter-skelter form to make the unusual shape more viable for office use. However, it is also understood that the relaunched scheme is set to include a partial change of use from commercial to residential in a bid to boost its viability. This move is likely to prove controversial with City of London planners, who have long opposed residential use in the City and have expressed concerns about the potential distortion of the City's commercial development by the influx of foreign wealth into London's residential market.
Peter Rees, City of London planning officer, told Building: "Were they to seek alternative use of significant parts of the building, it would be unlikely to be accepted from a planning point of view in London's central business district, where we're short of office space."
The Pinnacle has lain dormant since the beginning of 2012 after finance for the scheme dried up.
A £16m legal row over unpaid fees between Brookfield and the client, Pinnacle No 1 Ltd - a joint-venture between Sedco, a Saudi Arabian fund manager, and a Sharia-compliant fund managed by Pramerica - was settled in January, removing the imminent threat of insolvency from the stalled project.
It is understood that Brookfield's expanded role on the scheme was secured as part of that settlement, with the firm likely to earn higher fees if the project is built out, to compensate for the £16m it had claimed it was owed.
However, the project still lacks the anchor tenant the client has said it needs to enable it to proceed. Until a tenant or a fresh financing package can be secured the project is likely to remain on hold.
A Brookfield Multiplex spokesperson declined to comment on the exact detail of the firm's role or the fresh design proposals, but said: "We are working with the client on a development appraisal to move the scheme forward."
Kohn Pederson Fox and Pinnacle No 1 declined to comment.