Exclusive: Government risks huge fines for failing to implement key green construction regulations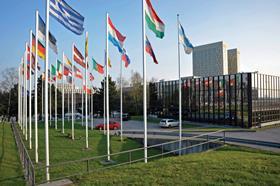 The European Commission has started legal proceedings against the UK government for failing to deliver on a raft of green construction regulations mandated by Brussels, Building can reveal.
The dispute centres around the UK government's failure to set out how it will comply with the Energy Performance of Buildings Directive (EPBD).
The directive's requirements include rolling out Display Energy Certificates (DECs) to large privately-owned buildings that are visited by the public, such as shopping centres, as well introducing regulations to require people to upgrade the energy performance of their homes when carrying out other home improvements.
The EC has now written to the government to say it has started infraction proceedings, which could ultimately end up in the European Court, saying the UK government has failed to communicate how it would fully adopt the directive completely into UK law.
Under European law a failure to implement measures within the prescribed timescale set out in a directive can lead to a €9.6m minimum fine, plus ongoing fines of hundreds of thousands of euros per day.
The EPBD was passed by the European Union in September 2010 and the UK was required to have adopted and published legislation setting out how it would meet its requirements by 9 July this year, with the measures operational by 9 January 2013.
However, in September 2011 the government announced that it would no longer be rolling out DECs to the private sector - a policy it had previously supported.
In March this year, the prime minister's office then appeared to torpedo plans brought forward to change Part L of the Building Regulations, called consequential improvements, that would require homeowners to make energy efficiency improvements to their homes, through the Green Deal, when carrying out other home improvements. The proposals had earlier
been dubbed a "conservatory tax" by some parts of the media.
The government has yet to publish its long-awaited response to the consultation on the changes and this week confirmed that they would be included within a wide-ranging review of Building Regulations undertaken by the Department for Communities and Local Government (DCLG), which is not scheduled to report until April 2013.
Andrew Warren, director of the Association for the Conservation of Energy, said the government's failure to implement measures it had signed up to was "appalling".
A DCLG spokesperson confirmed the department had received the EC's letter. "We are aiming to bring the necessary legislation into force to implement its provisions by the required date for this to come into force," he said.
The government has until 21 November to reply to the EC's letter.