The contractor is being lined up to replace Bouygues on the scheme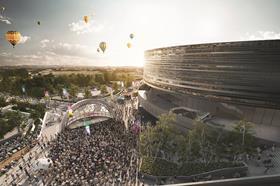 Buckingham Group is set to replace Bouygues on the job to build Bristol's new £92m arena.
A report by Bristol City council officials has recommended the re-award of the pre-construction deal to the contractor and approval to start enabling works at the site.
However, the report also suggests the Populous-designed 12,000-capacity venue be put under review to reassess the economic case for the arena, which could result in the scheme being scaled back, re-designed or replaced.
It recommends the appointment of a strategic director to review possible changes to the type, size and shape of the arena if the current scheme is abandoned.
But it argues it is "widely accepted" an arena in the South-west city - currently the only city in the country without one - would have "considerable economic and social benefits".
It is believed that the arena would act as a catalyst for the development of the Allies & Morrison-designed Bristol Temple Quarter Enterprise Zone (BTQEZ). The report was set to be considered by councillors on Tuesday (4 April).
French contractor Bouygues walked away from the job in January this year after failing to agree a price with the council for the 12,000-capacity arena.
The council has set aside £123m to build the new arena which sits on council-owned land and has so far spent £9m on bringing the project forward.
In another report from the council this month, Bristol's mayor Marvin Rees, said: "I am committed to getting the arena built and despite this setback it remains closer than it has ever been. We have the design, the planning permission, the operator and the momentum of a successful enterprise zone."
Work on the arena is expected to begin next spring.
The news of Bouygues replacement on the scheme comes after Building revealed earlier this week that the contractor is to be replaced on the third phase of the redevelopment of Battersea Power Station in London.
Fellow contractor Carillion has been tipped to replace the French contractor on the phase.