Building above NHS buildings in London could deliver 77,000 homes, report finds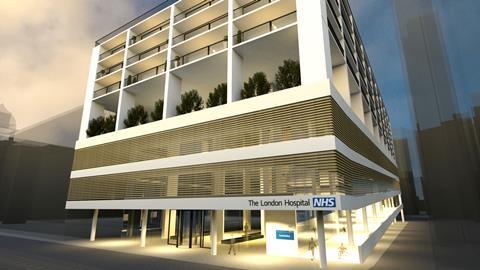 Redeveloping existing NHS buildings to include floors of apartments above could provide 77,000 new homes in London, according to a report published by consultant WSP.
WSP said the opportunity would represent almost 20% of the 400,000 homes needed in the capital over the next decade, as well as enabling the NHS to redevelop parts of its ageing and underused estate.
The London Health Commission recently published a report that found the NHS is spending £50-60m annually on maintaining NHS buildings that are not being used or are not fit for purpose.
WSP recommends an overbuild development strategy including building a combination of six, 12 or 18 storeys of flats above NHS buildings.
The report only considers hospital buildings without A&E facilities due to planning and construction constraints.
It is based on their analysis of 79 individual existing NHS buildings in London, allowing for 100m² per apartment and using a mixed height overbuild development strategy, with a combination of 6, 12, and 18 storeys. It only considers hospital buildings without A&E facilities, which would cause specific planning and construction issues.
If all the new residential buildings included 18 extra storeys the strategy could provide 118,000 homes, more than a quarter of the estimated need.
Director at WSP Bill Price said: "If private developers were allowed to invest in this land it would help plug the gap for more homes in London as well as provide state of the art healthcare facilities to replace those that need a facelift or are not currently being used.
"Obviously there are a few hurdles that would need tackling but this is done elsewhere in the world, for example the USA, and there's certainly no technical reason why it couldn't be done.
"However the point is not that we should go out and redevelop every hospital into an apartment block, but that we need to start thinking creatively about our housing woes, challenging the status quo and looking at how we use the land available to us."

WSP's initial analysis is a precursor to a wider study to be published in the autumn which will include an estimate of overbuilding on all municipal buildings in London.