Former Chancellor of the Exchequer backs £7bn high-speed rail network for the North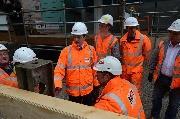 The north of England should get high-speed railway lines to help boost the region's economy, according to George Osborne, the former Chancellor of the Exchequer.
Writing in the Financial Times, Osborne, who strongly backed a 'Northern Powerhouse' when he sat alongside former Prime Minister David Cameron in the coalition government, said the move could transform the region's economy.
While it might cost as much as £7bn, he wrote: "It would bring seven million extra people – and three times the number of businesses – within a 90-minute journey time of one of the northern cities.
"There is no geographical reason why this cannot happen. The distance between Manchester and Leeds is shorter than the length of the Central line on the London Underground.
"The Northern Powerhouse Rail fits with May's stated objective of building an economy that works for everyone."