British Property Federation data shows BTR growth slowing, but says summer was to blame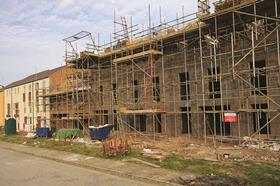 New data from the British Property Federation (BPF) shows that nearly 96,000 build-to-rent (BTR) homes were completed, under construction or in the planning process in the third quarter of 2017.
The BPF said the figure of 95,918 BTR units meant that the industry was "homing on the 100,000 milestone", and represented an increase of 37% versus the first three months of the year.
The figures "demonstrate the BTR sector's capacity to add to housing supply at speed" the trade body added.
While the numbers shows that while BTR activity was up by more than a third since the beginning of the year, a quarter-by-quarter analysis reveals growth slowing, although a BPF spokesman said this was likely due to activity slackening off during the summer.
Quarter-on-quarter comparisons for BTR homes completed, under construction or in planning since the start of 2017 shows growth slowing from 20% in the second three-month period, to 14% in the third quarter.
Actual completions between the first and second quarters grew by 20% to just short of 16,000 units, but by 7% in the third quarter to 17,001 homes. Similarly, second quarter growth in BTR homes under construction came in at 25%, while this eased back to 16% in the third quarter.
A BPF spokesman said a comparison between the second and third quarters "does not have much significance for us", largely because of the lower levels of activity during the summer period.
"People are on holidays so deals tend to happen before and after summer. So, this comparison isn't an accurate reflection of the sector's growth," the spokesman added.
The BPF's data showed an increase in activity by local developers in consecutive quarters, growing share by four and three percentage points respectively, while major UK firms saw their share reduce by one percentage point over the same period.