Survey reveals that builders are among the safest drivers in the country, but engineers are the worst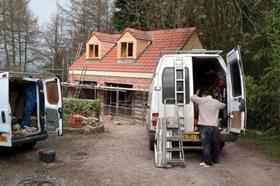 The stereotype of the accident-prone 'white van man' builder is out of date, a new survey has revealed.
The research, carried out by insurers 1st Central, shows that builders are in fact among the safest drivers in the country.
According to data analysis of more than a million motorists' insurance claims records, broken down by official occupational groups, builders were the sixth least accident-prone type of worker.
However engineers are the worst drivers, ranked by occupation, the survey shows.
One in three engineers (30%) had a collision in the last year, accounting for 125,000 accidents annually. This proportion is triple the national average.
The most cautious drivers are administrators, just 2% of whom make a motor claim per annum.