The new platform will provide exclusive data and interviews

Building Boardroom has launched today.
The new offering from Building has been designed to help senior professionals within the built environment do business better.
The new platform will provide Building Boardroom subscribers with insight on how to win work and understand what clients want.
It will offer readers interviews with clients as well as exclusive data revealing the biggest client spenders from across different sectors, as well as benchmark reports, quarterly forecasts and executive case studies.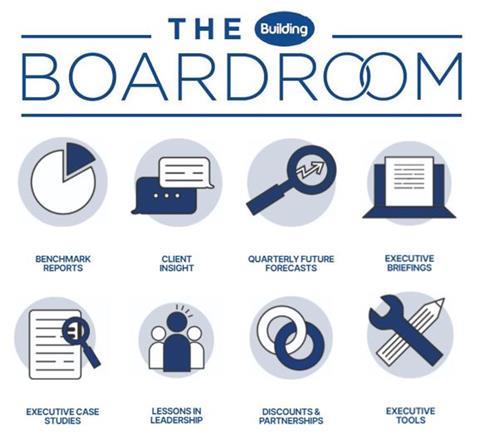 Upon its launch the Boardroom will feature interviews with Scape chief executive Mark Robinson and John Marland, director of building and construction at property firm Bruntwood.
Robinson, whose organisation is currently in the process of procuring two construction frameworks worth a total of £13bn, has provided insight on the changing needs of public sector clients.
He said: "Traditionally clients wanted professional services; they now need more strategic support around place shaping, regeneration and economic development."
Marland, who says his organisation has maintained a £1bn-plus pipeline despite the pandemic, has also revealed what his company looks for in its supply chain.
He said: "We are an informed and experienced client. We are looking for people who can add to our knowledge and inform us in areas where we are not the specialist and be open and honest with us."
For more information visit https://boardroom.building.co.uk/