Working group looks at ways to integrate regulations, planning and health and safety requirements into BIM models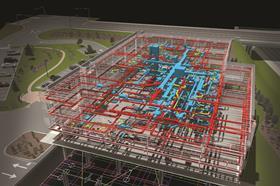 The government has commissioned a working group to integrate regulations into BIM to simplify compliance and enable Building Regulations and planning applications to be made using 3D computer models.
The initiative, called BIM4Regs, aims to incorporate Building Regulations, planning and health and safety requirements into BIM models. It has been commissioned by the BIM Task Group, part of the Department for Business, Innovation and Skills, and is being executed by a cross section of government and industry organisations including the Department for Communities and Local Government, the Health and Safety Executive, the planning portal, BRE, software vendors and industry representatives.
The initiative will embed regulatory information within BIM software so architects and engineers can immediately see if designs comply with the rules. Regulations based on minimum distance measurements, such as the amount of headroom required on stairs, can be easily incorporated into BIM with the model flagging up contraventions. The model will also be able to easily assess where fire compartments are needed in buildings by assessing minimum distances and numbers of people using the building.
However, judgment-based responses to regulations, such as selecting the best measures needed to meet energy targets, will be more difficult to incorporate.
Scott Brownrigg technical director Peter Caplehorn, the chair of the BIM4Regs working group, said he thought about 30% of regulations could be easily incorporated into BIM software.
Work completes at the end of the year and could result in standards setting out how regulations should be incorporated into BIM.
Caplehorn said he thought it unlikely that BIM applications would become mandatory because this was impractical for small domestic jobs, but there could be incentives for larger projects.
He said, "It [BIM applications] would probably be the preferred route. Maybe there would be the promise of faster processing or a preferential cost rate if applications are submitted as a BIM model."