GCS latest: Business secretary Vince Cable says construction must end its reliance on subcontracting and invest in apprenticeships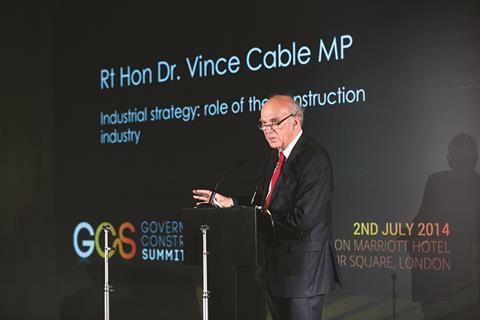 Vince Cable has told the industry to reform its fragmented structure and reliance on subcontracting, saying the model has contributed to a "horror story" over skills.
Speaking to Building following today's Government Construction Summit, the business secretary said there was a need to confront "deep-rooted issues" around the lack of suitable skills in the industry, but that government was primed to help by ensuring "properly-funded" apprenticeship programmes for new workers.
Cable also said the government should be spending more on capital programmes to boost construction, particularly by giving councils "significant new freedoms" to spend on local priorities, including housing.
Cable used his address at the summit to outline an improvement in training and apprenticeships as his main priority for improving the construction sector.
"We've had a real horror story over skills. The construction industry has lost 350,000 people, many of them highly skilled, many won't come back, they have dropped out of the labour market or are driving taxis," he said.
"The cyclical nature of the industry means people are fired in a downturn and re-hired in an upturn. We've got to find a better model. It's worth noting construction is the only sector of the economy where apprenticeships have declined in the past couple of years, everywhere apprenticeships have boomed."
Official figures show there were 14,000 construction apprentices taken on in England in 2012/13, a drop of a third on the 2009/10 figure. At the same time the total number of apprentices being taken across all sectors on has increased by 82%.
Cable told Building: "There are some very good companies. But nonetheless there are some deep-rooted issues [such as] the boom bust cycle in training and the unwillingness of companies to hold on to staff during recessions. The key problem in terms of skills is that the tier-one companies don't have their own labour forces, and have traditionally relied on small outsourcing companies, and that's why there's been a lack of focus on the skill need of the industry […] the industry has to develop a better model for supporting and retaining its staff."
Cable added that the government was also looking to tackle late payment by introducing legislation forcing large companies to publish their average payment times. The Small Business, Enterprise and Employment Bill, published last week, will pave the way for the government to force main contractors to be more transparent in their payment practices.
However, he said he would not introduce sanctions for those firms guilty of slow payment at this time.
"That may happen, but the problem with penalties is it is very difficult to distinguish between can't pay and won't pay," he said.
Cable also said the government made the recession worse by cutting capital spending "too deep and too fast" after the onset of the credit crunch. He added that a future Liberal Democrat administration would allow investment in capital projects to increase, spending on "good projects" without increasing borrowing.